It's like an episode of "Parenthood" -- funny, dramatic and sure to make you cry -- but a recent tear-jerker of a blog post by one of the show's stars is not fiction at all. On his Tumblr, actor Dax Shepard writes about the last visit he had with his dying father, including this poignant moment with his pregnant fiancée, Kristen Bell.
Story continues below photo.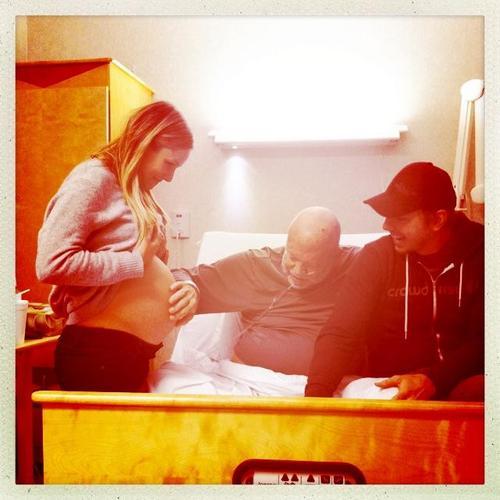 His father, who was only 62, was in a Detroit hospital battling cancer, Shepard writes. Bell, who is due to give birth this spring, had been shooting in Los Angeles, but flew to Detroit to surprise them.
It was an amazing, incredible, perfectly timed surprise. She lifted her shirt up and he put his hand on her swollen stomach. He left it there for the better part of an hour. He was smiling from ear to ear, sitting contently, unable to put together a sentence, but still capable of connecting to the new family member we were creating. He wasn't going to make it to the birth, but that didn't get in the way of him meeting the new baby. It was an emotional and triumphant moment. One I will never forget. If I live to be a thousand, I will still be in debt to my wife for giving him that one last thrill.
Though Shepard calls Bell his wife in the post, the couple have said they will not wed until their gay friends have the same right.
Any parent who has lost their own mom or dad before their kids were born or old enough to know grandparents knows what kind of hole it leaves. That is why Shepard's anecdote about Bell's role in this visit is especially touching. Yes, as TODAY points out there is a certain allure in learning what two incredibly likable stars experience when cameras aren't rolling, and we have an obsession with celebrity parents that is well-documented. But it is impossible to not feel a twinge of empathy when reading Shepard's tale about Bell's drop-in at his father's bedside.
Shepard writes that he was in the midst of a very full shooting schedule when he first found out about his dad's illness, and he and Bell had just learned they were having a baby. "Whoever was writing my life couldn't figure out which storyline they wanted to tell, and decided to tell them all at once," he writes.
The actor shares details of his father's life: he was an alcoholic with a colorful group of friends and a big appetite. Dad and Shepard moved 28 times, and when the actor did find "pockets of time" to see his father while he was sick, they would drive around Michigan, looking at all of those homes. "The car rides proved to be shockingly therapeutic," he says. And his father had a "way with women." Shepard's post is titled "My Father's Horniness" for a reason. (Go read it here because it is a beautiful piece.)
Almost 1,500 fans have left notes for Shepard on Tumblr, and his tweet about the piece has been retweeted hundreds of times. This morning, he sent out a message of thanks.