This is Jackson the cat. He lives in North Carolina.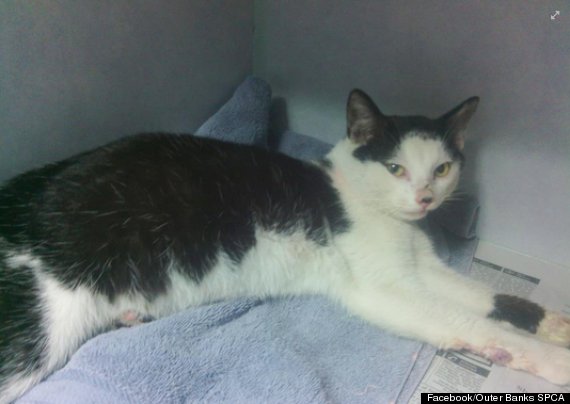 Last week, a group of kids approached Jackson, threw him into the air, ran over him with their bikes and squirted energy drinks in his face. The bullies reportedly varied in age from 5 to 13.
But 10-year-old Wendell Overton saved the day. According to a Wednesday post on the Outer Banks SPCA's Facebook page: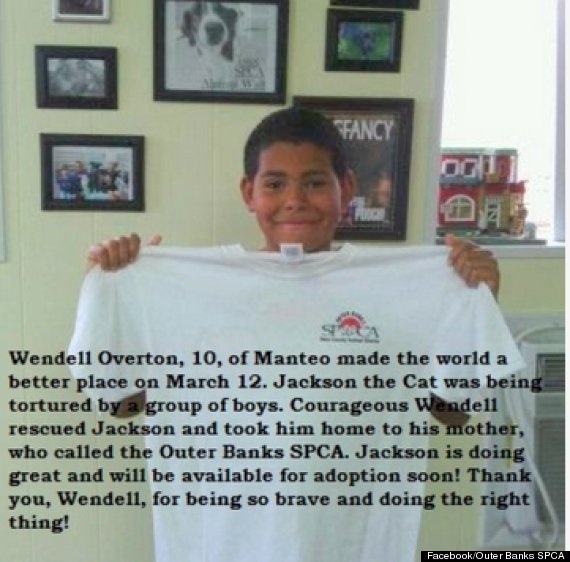 Wendell Overton, 10, of Manteo made the world a better place on March 12. Jackson the cat was being tortured by a group of boys. Courageous Wendell rescued Jackson and took him home to his mother, who called the Outer Banks SPCA. Jackson is doing great and will be available for adoption soon! Thank you, Wendell, for being so brave and doing the right thing!
Overton had seen the black-and-white cat in the neighborhood before, WVEC reported. On the day of the attack he became worried that his injuries were serious.
"He said 'Mom, this cat is going to die. We need to save it,'" his mother said in the video above.
The story generated a flurry of attention for Jackson and Overton. Shortly after the photo went online, the SPCA posted an update:
WOW! Words cannot express how moved we are by the overwhelming response to Wendell's story. We wanted to give everyone an update on Jackson, the cat saved by Wendell's compassion and bravery. He is recovering well, resting comfortably, eating like a king and will be looking for a new home soon!
Tons of cards and letters poured in praising Wendell's bravery.
XOXO.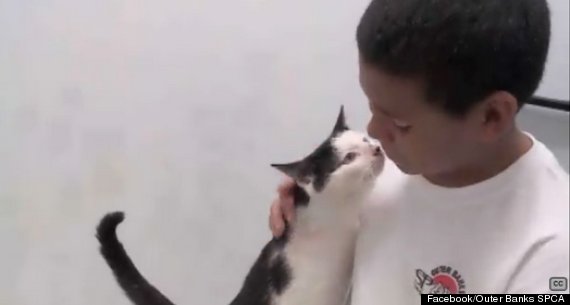 H/T: BuzzFeed
Also on HuffPost:
Loading Slideshow
Dog Rescued After Tsunami

Ban was reunited with her owner in tsunami-ravaged Japan after a news channel aired dramatic footage of her being rescued from the sea. This is pure joy.

The Persistence Of Memory

Joplin's owner was incarcerated for 3.5 years. Would Joplin still remember her after all that time apart? (The answer, of course, is yes, but don't let that stop you from watching this beautiful video)

Christian The Lion

The video NEVER gets old. From the video's description on YouTube: "In 1969 a young Australian, John Rendall and his friend Ace Bourke, bought a small lion cub from Harrods pet department, which was then legal. 'Christian' was kept in the basement of a furniture shop on the Kings Road in Chelsea, the heart of the swinging sixties. Loved by all, the affectionate cub ate in a local restaurant, played in a nearby graveyard, but was growing fast... ...Then in 1971 he was flown to Kenya, his ancestral home, and returned to the wild by lion-man George Adamson. Nine months later in 1972, John and Ace returned to Kora in Kenya. This clip is of their reunion at that time. It was an emotional reunion: "He ran towards us, threw himself onto us, knocked us over and hugged us, with his paws on our shoulders." John Rendall"

Chuck Is Reunited After Years On The Streets

Chuck got lost and spent 4.5 years on the streets. Forty pounds lighter, but still wearing the same dog tag, he was reunited with his family.

Anita And The Wolves

Anita spent two years socializing with these wolves. This is their reunion after two months apart. If you've never seen wolves act like puppies, this is your chance.

Tyrone Stewart Reunited With CiCi

The Stewart family was forced to leave their five dogs behind to make room for other families when they fled New Orleans by boat during Hurricane Katrina. In this video, 15-year-old Tyrone is reunited with his dog CiCi.

Greg Cook Reunited With His Dog Coco

Greg Cook hugs his dog Coco after finding her inside his destroyed home in Alabama following the tornado in March 2012.

Damian Meets Kwibi

Conservationist Damian Aspinall is searching for Kwibi, a lowland gorilla he hasn't seen for 5 years. Kwibi grew up with Damian at an animal park in England, but was later released into the forests of Gabon. Now Kwibi is 10 years old. Watch what happens at their reunion..

Lavern's Rescue During The Tornado

For 16 days, Lavern, a 13-year-old cat, was buried beneath the rubble of a house in Joplin, Mo. Her owner, Terrla Cruse, assumed her cat had died. But when she and her sister returned to the house to look for some papers, they heard meowing and began to dig frantically. Lavern's head soon emerged and Terrla's sister was quick to take a photo of the moment.

Chuck Welcomes Home His Owner

Chuck's dad is a soldier returning from service. If there was an award for happiest dog on the Internet, Chuck, who is a boxer, would be the clear winner.

Jared Is Reunited WIth His Lost Cat

Clyde had been missing for 12 days before someone found him and returned him while 10-year-old Jared was at school. Jared's mom decided to surprise him, and a lovely, tearful reunion followed.

A Christmas Miracle!

Maynard was reunited with his owners after a series of minor miracles just before Christmas in 2009. He'd been missing for two years before that!

Karma's Reunion With Her Baby

Okay, so this isn't exactly an animal-human reunion. But it is heartbreaking and amazing. Karma is reunited with her calf after they've both been rescued. Yes, it's okay to cry now.