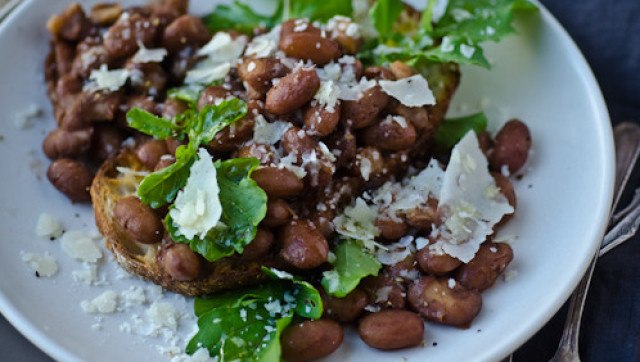 Last week, we tried to coax you out from underneath the bed when faced with cooking dried beans. It got us to thinking about all the ways we love to eat beans -- properly cooked ones that taste good, we mean. One great benefit to giving dried beans a shot is that you have access to many varieties of delicious beans that are not frequently canned. Today we found you recipes for some of our favorite beans matching that description: borlotti beans.
Borlotti beans are in the cranberry bean family, have thick skins and creamy insides, and are one of our favorite things to eat right now. These beans are perfect in classic minestrone or pasta e fagioli, but are also totally at home in a cold salad. One of the incredible recipes we have for you today stews borlotti beans down with tomatoes, a mixture that then gets spooned over creamy polenta. You won't believe that something this good for you can taste so delicious.
Want to read more from HuffPost Taste? Follow us on Twitter, Facebook, Pinterest and Tumblr.
PHOTO GALLERIES
Borlotti Bean Recipes