This is not a contest any country should hope to win, but five countries tied for first place in Maplecroft's 2013 sexual violence in conflict index.
In its annual report, the global risk analysis group revealed the top 10 countries that pose the most "extreme risk" of sexual violence during times of conflict.
Assessing the impact of sexual violence on societies throughout the past 15 years, Maplecroft evaluated the severity of such abuse. Two specific indicators of serious risk included the "systematic use of sexual violence as a weapon of war and the involvement of child soldiers either as victims or perpetrators of sexual violence during a conflict."
Representing the United Nations, Angelina Jolie traveled to the Democratic Republic of Congo this week as part of a campaign to quash rape and sexual violence in war zones.
"This visit is about hearing first hand from people who have endured rape and sexual violence during the conflict in the eastern DRC," Jolie said in a statement.
Along with British Foreign Secretary William Hague, Jolie will visit several countries in Africa ahead of the 2013 G8 summit in May. As the Agence France-Presse notes, the campaign against sexual violence will also be brought before the U.N. Security Council, as well as the U.N. General Assembly later this year.
View the map to see where each country falls on the risk spectrum, and see the 10 worst offenders in the gallery below. (Note: The top five offenders weren't the only countries that tied on the list.)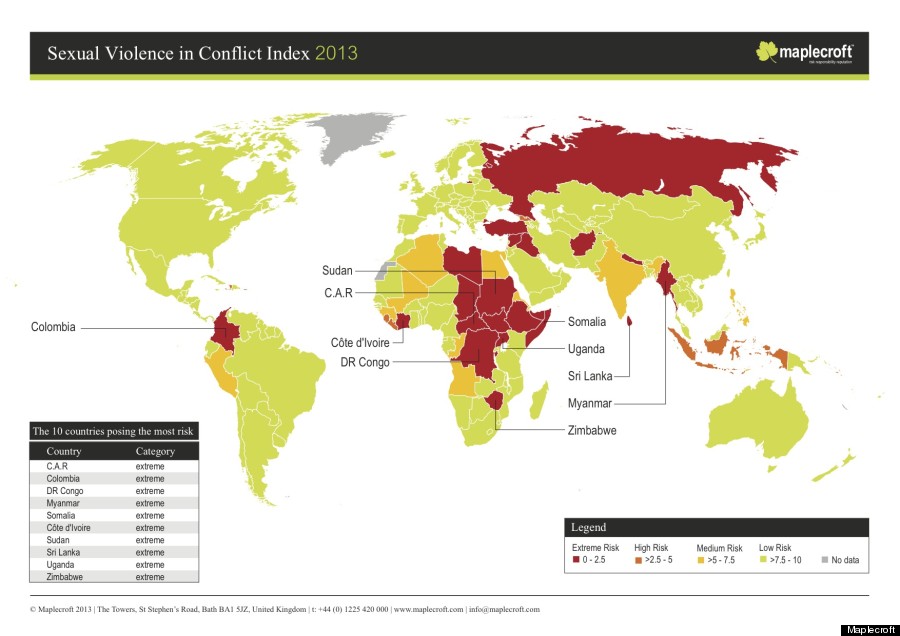 10 Worst 'Sexual Violence In Conflict' Offenders
Police armed with batons outside the Harare court where human rights lawyer, Beatrice Mtetwa, unseen, arrived Tuesday, March 19, 2013, charged with obstructing justice, after police ignored a judge's order to release her a day earlier.

A Ugandan woman covers her mouth and nose and runs away from tear gas that was used by Ugandan authorities to disperse well wishers welcoming opposition leader Kizza Besigye back to Uganda on May 12, 2011.

Sri Lankan women hold placards during a demonstration to mark "One Billion Rising" campaign called to bring an end to violence against women, on Valentines Day in Colombo, Sri Lanka, Thursday, Feb. 14, 2013. Rights groups demanded the government take action to curb rising rape, domestic violence and gender base attacks on Sri Lankan women.

In this photo taken Saturday, June 30, 2012 and released by Mercy Corps on Monday, July 9, 2012, female child refugees who escaped violence on Sudan's side of the disputed border queue up inside Yida refugee camp, South Sudan.

Ivorian Muslim women pray on March 16, 2013 at the culture palace in Abidjan during the official launch of the days of prayer for repentance, reconciliation, unity, love and peace in Ivory Coast.

A Somali woman reacts on March 18, 2013 near the site of a car bomb in central Mogadishu.

A Muslim woman holds her baby as she looks out from a temporary relief camp in riot-hit Meiktila on March 23, 2013.

Congolese hold photos of alleged M23 atrocities and wave a US flag with 'Nazi' written on it as they stage a protest on November 27, 2012 outside the UN offices in Pretoria against UN peacekeeping troops in Goma not protecting women and children against the M23 rebels.

People demonstrate against violence against women during a protest held on International Women's Day on March 8, 2013 in Medellin, Antioquia department, Colombia.

Demonstrators shout slogans and hold a placard reading 'We need peace in RCA' (Central African Republic) and a banner reading 'Peace ! Peace !' during a protest on January 5, 2013, in Bangui.