The Supreme Court weighed the constitutionality of the Defense of Marriage Act (DOMA) on Wednesday while hearing oral arguments in United States v. Windsor.
It was the second gay marriage case heard by the high court this week. On Tuesday, the court heard arguments on Proposition 8, California's gay marriage ban.
Listen to audio of the oral arguments from United States vs. Windsor above, and click here to read a full transcript.
See photos from the Supreme Court below, and scroll down for live blog updates:
Supreme Court Proposition 8 Case
A drag queen dances in front of opponents and supporters of same-sex marriage converging in front of the US Supreme Court as the March for Marriage arrives at the court in Washington on March 26, 2013. The court is hearing arguments on California's Proposition 8 ban on same-sex marriage. AFP PHOTO/Nicholas KAMM (Photo credit should read NICHOLAS KAMM/AFP/Getty Images)
Dressed in jeans and a fleece jacket, Rep. Xavier Becerra (D-Calif.) was trying to be discrete when he brought his daughter Natalia to the Supreme Court on Wednesday to check out the crowd gathered outside in support of gay marriage.
But Spanish-language media soon recognized him and pulled him in front of the cameras. Soon enough, he was on a makeshift stage with Natalia drawing cheers from members of the crowd, describing them as "soldiers for equality."
Later talking to The Huffington Post, Becerra, who is the chairman of the House Democratic Caucus, recalled his vote in 1996 against DOMA, something he said brought on significant criticisms from his church.
"I'm a proud Catholic," Becerra said, standing next to Natalia, who had a rainbow ribbon tied in her hair. "But you do what you feel is right."
Nearly everybody invoking religion outside of the court on Wednesday did so in the name of a loving God who embraces all people, including LGBT people who want to marry their same-sex partner. But there were a handful of others with signs condemning gay marriage and pointing to the Bible as the reason for their stance. Becerra said he respected those people's religious views, but said their beliefs don't apply to him or anyone else.
"When you enter into the public forum, when you start to have our civil life dictated by our religious values, our Constitution says no," he said. "Our Constitution says everyone is created equally. If that conflicts with someone's religious values, we still say, in this country, that the civil value wins out."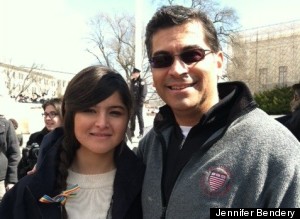 --Jennifer Bendery