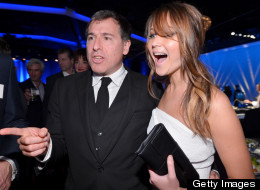 Just before the Oscars on Feb. 24, THR reported that Jennifer Lawrence and David O. Russell were teaming up for a reunion film called "The Ends of the Earth." As it turns out, that might not be the case.
According to THR, producer Harvey Weinstein announced Russell's involvement in the project early, perhaps in an effort to goose Oscar voters into selecting Lawrence on their Best Actress ballot. (Lawrence wound up winning an Oscar at the Academy Awards ceremony this year; it's doubtful this future film had anything to do with that.) Unfortunately for "The Ends of the Earth," Russell is not actually attached yet; per a source to THR, he could still sign on for the film eventually. (The THR piece includes a photo of Weinstein with his pants on fire, for what it's worth.)
Written by Oscar winner Chris Terrio ("Argo"), "The Ends of the Earth" is a romantic melodrama based on the story of E.W. Marland, an oil tycoon who married his adopted daughter (Lawrence). It would have been the third project Russell and Lawrence made together, following "Silver Linings Playbook" and Russell's untitled ABSCAM drama that's shooting right now for release later this year.
"Oh, it's nice," Russell told HuffPost Entertainment last year about working with the same actors. "It's really great because you have a lot of trust with each other and then you can really reach higher and go farther and deeper. The best thing is for me to trying to to the best I can do as a writer and directer so that I keep attracting the best people. To me, that's a blessing. If I get to keep working with people as gifted as these actors, you're halfway into the movie at that point in delivering the vision. It raises the bar for me, and I just keep trying harder."
For more on Russell's "Ends of the Earth" negotiations, head over to THR.
[via THR]
in Donna Karan Atelier.

in Rafael Cennamo.

in a Tony Ward Couture dress, Norman Silverman earrings, Le Vian and De Marco rings and a Judith Leiber bag.

in a Romona Keveza dress, Jimmy Choo shoes, Swarovski clutch and Martin Katz jewelry.

in a Tony Ward dress and Simon G jewelry.

It's biggest fashion runway in the world - the Oscar red carpet. And on Sunday night, the stars did not disappoint. Sandra Bullock went backless in black and white. Gwyneth Paltrow made an elegant entry in an off-white Tom Ford ensemble with cape. Angelina Jolie rocked the carpet - fearlessly posing in a thigh-high cut Versace velvet dress. Viola Davis made her entrance in an emerald green Vera Wang, while Glenn Close chose a similar hue by designer Zac Posen.