Bundt Cake Recipes (PHOTOS)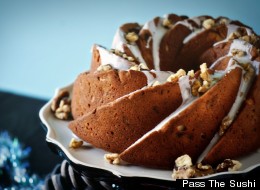 Cupcakes have been in the spotlight for a long time now. And while we have nothing against them -- they're cakes, after all -- we think it might just be time to give another type of cake a chance. And we're putting our chips on Bundt cakes. They're just as versatile as the cupcake, just as delicious, and a little more beautiful.
Bundt cakes are easy to make; you can skip the whole step of making frosting if you want because the pan takes care of making your cake look spectacular. And with so many different shapes of Bundt pans to choose from, you'll never get bored of the shape -- cupcakes can't offer you that.
Want to read more from HuffPost Taste? Follow us on Twitter, Facebook, Pinterest and Tumblr.
Get the Citrus Olive Oil Cake recipe by Bakers Royale

Get the Tunnel of Fudge Cake recipe by Annie's Eats

Get the Mini Fruit and Chocolate Bundt Cakes with Chocolate Cream Cheese Glaze recipe by How To: Simplify

Get the Orange and Poppyseed Bundt Cake recipe by Jungle Frog Cooking

Get the Cranberry-Citrus & Coconut Cake recipe by Bakers Royale

Get the Vanilla Rum Cakes recipe by Bakers Royale

Get the Banana-Nut Pound Cake with Maple Crown Royal Glaze recipe by Pass The Sushi

Get the Twinkie Bundt Cake recipe by Sweetapolita

Get the Mini Lemon Sugar Bundt Cakes recipe by Spicy Ice Cream

Get the Milk Bundt Cake recipe by Cook Republic

Get the Strawberry Bundt Cake with White Chocolate Ganache recipe by Bright-Eyed Baker

Get the Devil's Food Bundt Cake with Chocolate Espresso Ganache recipe by Foodie Crush

Get the Strawberry 'Doughnut' Cake recipe by Raspberri Cupcake

Get the Brown Butter Pound Cake recipe by Wanna Be A Country Cleaver

Get the Pina Colada Bundt Cake recipe by Betsy Life

Get the Chocolate Almond Bundt Cake recipe by Annie's Eats

Get the Semolina and Yogurt Bundt Cake recipe

Get the Burnt Sugar Bundt Cake with Caramel-Rum Frosting recipe by Une Gamine Dans La Cuisine

Get the Chocolate Fudge Peanut Butter Cake recipe by How Sweet It Is

Get the Browned Butter Zucchini Bundt Cakes recipe by The Faux Martha

Get the Seville Orange Bundt Cake recipe by Elra

Get the Mini Chocolate Banana Bundt Cakes recipe by She Cooks, She Gardens

Get the Cinnamon Roll Cake recipe by Bakers Royale

Get the Salted Caramel Bundt Cake recipe by Eats Well With Others

Get the Lemon-and-Orange-Glazed Pound Cake recipe

Get the Chocolate Zucchini Cake recipe by Gimme Some Oven

Get the Gingerbread Beer Bundt Cake with Chocolate Glaze recipe by janeofmanytrade via Food52

Get the Velvet Brownie Swirl Cake recipe by A Spicy Perspective

Get the Kouglof recipe by Manger

Get the Spiced Upside-Down Apple Bundt Cake recipe

Get the Rum Cake recipe by Gimme Some Oven