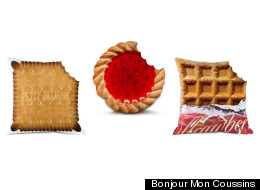 There are pillows for sleeping and then pillows for eating. Wait. That's not right. (Not unless you have pica disorder, which we truly hope you don't). But when we saw the "Crunch Pillows" made by French company Bonjour Mon Coussin, they looked so realistic -- and so good! -- that we were almost tempted to take a bite. Almost.
The Crunch Pillows are modeled after the most common and loved cookies in France -- Petit Beurre (a butter cookie), Gauffre (a sweet store-bought waffle) and a Tartelette (a jam filled cookie tart). They're the equivalent of the Oreo, Keebler chocolate chip cookies, and Twinkies for U.S. cookie-lovers. And even though we didn't grow up eating these cookies, we'd still love to see them on our couch -- in pillow form, of course.
You can get yours for 39 euros, plus the cost of shipping overseas.
Want to read more from HuffPost Taste? Follow us on Twitter, Facebook, Pinterest and Tumblr.
Check out all of our favorite food-themed home gear.
Bacon And Egg Sleep Ware | aufschnitt.net

Petit Beurre | bonjourmoncoussin.com

Chocolat | bonjourmoncoussin.com

Gaufre (Waffles) | bonjourmoncoussin.com

Tartelette | bonjourmoncoussin.com

Chocolate Bedding, $185

Burger Bedding | davidelfin.com Who doesn't want to sleep in a cheeseburger?

Watermelon Tent | fieldcandy.com Camping wouldn't be the same if you couldn't get your shut eye in a watermelon wedge.

Pizza Slice Sleeping Bag | etsy.com If you have to sleep on the floor, it may as well be in a giant pizza slice.

Baked Potato Bean Bag Chair | etsy.com We know that a bean bag chair is not the best place to fall asleep, but when a pat of butter is involved, there's no place we'd rather be.

Sandwich Tent | fieldcandy.com There's an egg on this tent sandwich, which means we love it automatically.

Waffle and Syrup Sheets (with optional fruit pillows) | etsy.com The only thing better than eating a waffle, is sleeping on one.

Pepperoni pillow | etsy.com You can't sleep on this, but you can sleep with it. What's not to love about this space-like pepperoni pillow?
via Foodiggity