In the age of Instagram and "Fakebooking," not all depictions of motherhood feel completely genuine. With her project Momma Love: How the Mother Half Lives, photographer Ali Smith has provided 40 portraits that are as honest as they are beautiful.
Smith started working on this book about motherhood almost a decade before giving birth herself. She drew inspiration from her own mom's experience and that of raising her 20-year-old step-daughter.
Growing up, she observed her mother's depression, which made her both proactive and curious, Smith told HuffPost over email. "[She] made me start questioning, from a young age, what circumstances might lead to a mother's depression, and made me keenly interested in how to avoid that fate for myself." As for her stepdaughter, the photographer fell "deeply in parental love" with her and struggled to understand the exact role she could play in the young woman's life. She had always been interested in what makes a mother and a family, but said that curiosity was "heightened" by the experience of being a step-parent.
It grew to the point of obsession. Smith started gathering stories of motherhood that fascinated her, starting with people she knew and then casting a wider net by latching onto anything interesting she happened to hear -- and going out of her way to find mothers whose experiences she was especially eager to learn about (that's how she found Terry Born, who shared a story about coming to accept her daughter's choice to have gender reassignment surgery). The final product, set to be self-published on May 1, includes a mom who fought for the right to breastfeed during her medical board exam, a rock musician who brings her children on the road and even an Oscar nominee.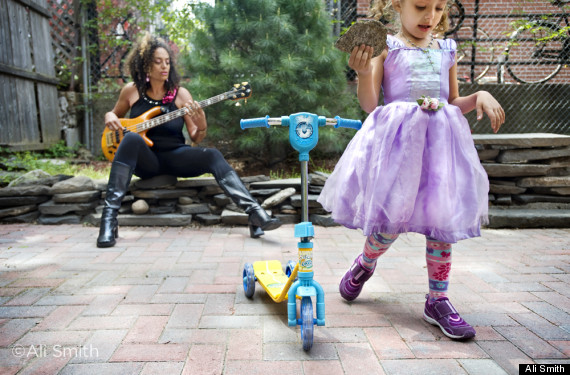 Alyson Palmer and her daughter, Ruby
Momma Love will come out at a time when arguments over a mom's role -- her needs, responsibilities and ability to "have it all" -- are constantly in the news. But Smith calls the Mommy Wars a tiresome diversion. "There are deeply ingrained issues about parenting inequality that are not being addressed in any functionally sound way. Motherhood can be a really isolating experience. We don't need fewer points of commonality. We need a broader conversation," she said.
That's why her powerful photographs emphasize the beauty of the real, rather than the expected or the cliché. As Smith says in her Kickstarter campaign video, "Mothers are made to feel that if their parenting experience isn't all soft focus moments of bliss and fulfillment, they're doing something wrong. But as any mother may admit in private, motherhood is a really hard job." She's hoping her work showcases the highs and lows of that vocation with honesty and grace.
LOOK:
'Momma Love' by Ali Smith
Sophie Currier won a landmark case in the Supreme Court over her right to breastfeed during her medical board exam, changing laws regarding breastfeeding in the workplace. "No man has ever been told he'd have to put his career on hold because he had a child."

Kitty's daughter is the biological child of Darren, Kitty's best friend, who is gay. Along with his partner, Sam, the three of them raise Olive as a family. "As for explaining the situation to Olive someday, I will tell her that I chose two wonderful daddies for her and that she's a very lucky girl."

Hannah Bright, an employment judge, lives with her daughter and husband in Yorkshire, England. "Although it would be nice to 'Get my body back,' perhaps what I was really afraid of was that I would not get my life back. I just know that I've had more laughs -- more genuine, joyful belly laughs -- since Lizzie's been born than I'd had in the previous 36 years of my life."

Diana Colbert lost her battle with leukemia just before her daughter's third birthday. "[I told Lily] 'All my love for you is in my heart and your heart. And your love for me is in your heart and my heart. So we're not really separated.' And I felt like she could almost get that, you know? I hope she could almost get that. "

Alyson Palmer has been in the band BETTY for over 20 years. During that time, she's taken her two children on several tours with her for what she calls "Road Schooling." "All contracts for my band now have 'Experienced, reliable babysitters with references' written into the rider, where once we had listed a dozen different kinds of cocktails."

Ali Smith is the photographer/author of this book. She has a 3-and-a-half-year-old son, Harper. "Whether I do perfectly well or horribly badly as a parent -- or, most likely, something in between -- I will remain his one and only chance at feeling he can rely on, be soothed by, be unconditionally loved by his mother."

28 Of The Best Daddy-Daughter Photos 10 Incredible "Extreme" Family Photos Meet The Moms Of The 2012 Summer Olympics
For more information, visit Momma Love's Kickstarter page.