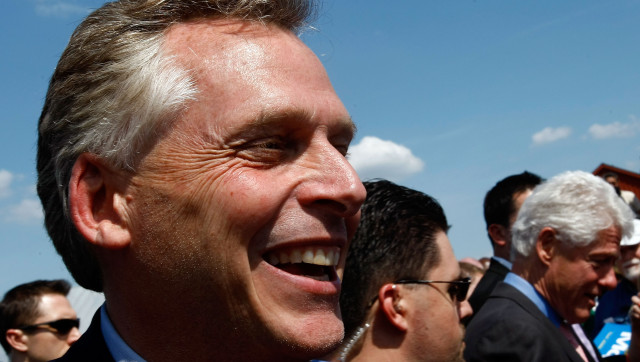 Backers of Virginia's candidates for governor exchanged hard-edged humor Monday, issuing false April Fools' Day statements at their rival's expense.
Republican Attorney General Ken Cuccineli's campaign struck first, issuing a release under the headline: "McAuliffe To Open Job-Rich Plant in Virginia."
The Republican spoof claimed that Terry McAuliffe had announced "a major commitment to bringing manufacturing jobs to Virginia" and that GreenTech, his electric car company, would soon open a factory outside Fredericksburg.
Then, under a headline of APRIL FOOL'S! the statement noted that McAuliffe "chose to base his electric car company in Mississippi."
The Democratic Party of Virginia responded in kind, issuing a prank release that falsely claimed Cuccinelli had resigned as attorney general, headlined: "Breaking: Cuccinelli Resigns Office over Star Scientific and Transportation Conflicts of Interest."
The Democratic spoof claimed Cuccinelli said in a statement that "issues like his conflict of interest with drug company Star Scientific and his ideological attacks on the bipartisan transportation compromise are making it impossible for him to do his job impartially."
The Washington Post has reported that Cuccinelli delayed disclosure of his stock holdings in the Henrico-based drug company because he didn't know his holdings topped $10,000, the threshold for disclosure.
The Associated Press reported March 22 that Henrico-based Star Scientific Inc. sued Virginia's Department of Taxation in Mecklenberg Circuit Court in July 2011 over a $700,000 tax dispute with the state. A deputy attorney general filed an answer to the complaint the following month. There have been no new motions, pleadings, filings or hearings in the case since.
The barbs between Cuccinelli and McAuliffe did not begin on April Fool's Day.
On Saturday Cuccinelli tweaked McAuliffe, tweeting a backhanded congratulations for Syracuse making the Final Four: Congrats to @ Terry_McAuliffe for his school making the final 4. Hope my orange & blue team -- UVa makes it next year.
McAuliffe was born and raised in Syracuse, but he did not attend Syracuse University.
He received his undergraduate degree from Catholic University and his law degree from Georgetown University.
GOP Lawmakers Run Away From Grover
SUBSCRIBE AND FOLLOW
Get top stories and blog posts emailed to me each day. Newsletters may offer personalized content or advertisements.
Learn more