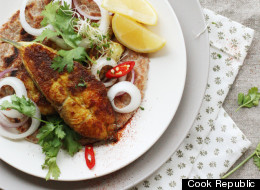 Now that spring is in the air, we're getting really excited to see what the food blogging community is up to. The fog of winter and its muted foods are behind us, and cooks everywhere are feeling inspired with the array of new recipes made possible by colorful and fresh spring produce. That means that we can expect bright dishes and fruit-filled desserts from our favorite food bloggers.
We've got our eyes glued to 10 food bloggers (listed below) for the beginning of this season. We just know they'll come up with great ways to use spring strawberries, ramps and fava beans (just a few of our favorites). Check them out and be sure to follow closely -- we know we will.
Want to read more from HuffPost Taste? Follow us on Twitter, Facebook, Pinterest and Tumblr.
howto-simplify.com If you have an interest in making things from scratch, How To: Simplify will help walk you through that -- with the help of great stories and beautiful photography along the way.

sweetapolita.com For amazing dessert recipes, Sweetapolita has got you covered. Not only can she bake an ombre cake like a boss, but she also makes great video tutorials to show you how to make one too.

cookrepublic.com A food blogger raised in India and currently living in Australia, Sneh of Cook Republic is sure to deliver flavorful recipes.

gourmandeinthekitchen.com This beautiful food blog provides you with a little bit of everything: savory, sweet and even cocktails. One thing it does have that many food blogs don't are healthy recipes -- you know, if you're into that kind of thing.

hummingbirdhigh.com We have only one thing to say about this blog: Meyer lemon pudding cake!

jellytoastblog.com Considered yourself warned. Once you check out Jelly Toast, you'll lose hours of your day poking around her site. But, we think it's time well spent.

thehungryhousewife.com Having spent her life in the restaurant business, Leslie of The Hungry Housewife definitely knows a thing or two about food.

pipandebby.com If you love cookies and bars, you'll love P&E Yummilicious. These aren't the only recipes you'll find on the blog, but there are a lot of them.

unegaminedanslacuisine.com For classic baking recipes, and some with twists, Une Gamine Dans La Cuisine will not disappoint.

joanne-eatswellwithothers.com Joanne doesn't try to impress us with fancy recipes, but instead supplies us with just the type of classic home cooking we crave.