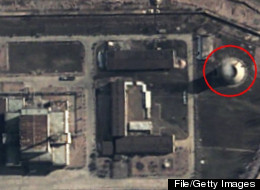 PAJU, South Korea (AP) — North Korea warned Thursday that its military has been cleared to attack the U.S. using "smaller, lighter and diversified" nuclear weapons, while the U.S. said it will strengthen regional protection by deploying a missile defense system to Guam.
Despite the intense rhetoric, analysts do not expect a nuclear attack by North Korea, which knows the move could trigger a destructive, suicidal war. Experts believe Pyongyang does not yet have the ability to launch nuclear-tipped missiles, but its other nuclear capabilities aren't fully known.
The strident warning from Pyongyang is the latest in a series of escalating threats from North Korea, which has railed against joint U.S. and South Korean military exercises taking place in South Korea and has expressed anger over tightened sanctions for its February nuclear test.
For a second day Thursday, North Korean border authorities denied entry to South Koreans who manage jointly run factories in the North Korean city of Kaesong. A North Korean government-run committee threatened to pull out North Korean workers from Kaesong as well.
On Tuesday, Pyongyang announced it would restart a plutonium reactor it had shut down in 2007. A U.S. research institute said Wednesday that satellite imagery shows that construction needed for the restart has already begun.
North Korea's military statement said its troops had been authorized to counter U.S. "aggression" with "powerful practical military counteractions," including nuclear weapons.
"We formally inform the White House and Pentagon that the ever-escalating U.S. hostile policy toward the DPRK and its reckless nuclear threat will be smashed by the strong will of all the united service personnel and people and cutting-edge smaller, lighter and diversified nuclear strike means," an unnamed spokesman from the General Bureau of the Korean People's Army said in a statement carried by state media, referring to North Korea by its formal name, the Democratic People's Republic of Korea. "The U.S. had better ponder over the prevailing grave situation."
The Pentagon announced that it will deploy a missile defense system to the U.S. Pacific territory of Guam to strengthen regional protection against a possible attack.
U.S. Defense Secretary Chuck Hagel said Washington is doing all it can to defuse the situation, echoing comments a day earlier by Secretary of State John Kerry.
"Some of the actions they've taken over the last few weeks present a real and clear danger and threat to the interests, certainly of our allies, starting with South Korea and Japan, and also the threats that the North Koreans have leveled directly at the United States regarding our base in Guam, threatened Hawaii, threatened the West Coast of the United States," Hagel said Wednesday.
South Korea's Defense Ministry said its military is ready to deal with any provocation by North Korea. "I can say we have no problem in crisis management," deputy ministry spokesman Wee Yong-sub told reporters.
This spring's annual U.S.-South Korea drills have incorporated fighter jets and nuclear-capable stealth bombers, though the allies insist they are routine exercises. Pyongyang calls them rehearsals for a northward invasion.
The foes fought on opposite sides of the three-year Korean War, which ended in a truce in 1953. The divided Korean Peninsula remains in a technical state of war six decades later, and Washington keeps 28,500 troops in South Korea to protect its ally.
North Korea's nuclear strike capabilities remain unclear.
Pyongyang is believed to be working toward building an atomic bomb small enough to mount on a long-range missile. Long-range rocket launches designed to send satellites into space in 2009 and 2012 were widely considered covert tests of missile technology, and North Korea has conducted three underground nuclear tests, most recently in February.
"I don't believe North Korea has the capacity to attack the United States with nuclear weapons mounted on missiles, and won't for many years. Its ability to target and strike South Korea is also very limited," nuclear scientist Siegfried Hecker, a senior fellow at the Center for International Security and Cooperation at Stanford University, said this week.
"And even if Pyongyang had the technical means, why would the regime want to launch a nuclear attack when it fully knows that any use of nuclear weapons would result in a devastating military response and would spell the end of the regime?" he said in answers posted to CISAC's website.
In Seoul, a senior government official said Tuesday it wasn't clear how advanced North Korea's nuclear weapons capabilities are. But he also noted fallout from any nuclear strike on Seoul or beyond would threaten Pyongyang as well, making a strike unlikely. He spoke on condition of anonymity because he wasn't authorized to speak publicly to the media.
North Korea maintains that it needs to build nuclear weapons to defend itself against the United States. On Monday, North Korean leader Kim Jong Un led a high-level meeting of party officials who declared building the economy and "nuclear armed forces" as the nation's two top priorities.
Hecker has estimated that North Korea has enough plutonium to make several crude nuclear bombs. Its announcement Tuesday that it would restart a plutonium reactor indicated that it intends to produce more nuclear weapons material.
The U.S.-Korea Institute at Johns Hopkins School of Advanced International Studies has analyzed recent commercial satellite imagery of the Nyongbyon nuclear facility, where the reactor was shut down in 2007 under the terms of a disarmament agreement. A cooling tower for the reactor was destroyed in 2008.
The analysis published Wednesday on the institute's website, 38 North, says that rebuilding the tower would take six months, but a March 27 photo shows building work may have started for an alternative cooling system that could take just weeks. Experts estimate it could take three months to a year to restart the plant.
Meanwhile, North Korea threatened to close the Kaesong industrial complex, which houses factories powered by South Korean money and know-how and North Korean labor. It is a symbol of inter-Korean cooperation that has endured years of declining relations.
Trucks carrying cargo and South Korean workers were turned back Wednesday, and again Thursday morning, at the border city of Paju.
North Korea was allowing South Korean managers at Kaesong to return home. About 220 South Koreans were to cross the heavily fortified border into the South throughout Thursday, according to Seoul's Unification Ministry.
___
Lee reported from Seoul. Associated Press writers Matthew Lee in Washington and Hyung-jin Kim and Youkyung Lee in Seoul contributed to this report. Follow AP's Korea bureau chief at www.twitter.com/newsjean.
Seoul's Unification Ministry spokesman Kim Hyung-suk said Pyongyang was allowing South Koreans to return home from Kaesong. Three workers returned Wednesday morning; dozens more were scheduled to return later. But Kim said about 480 South Koreans who had planned to travel to the park Wednesday were being refused entry.
North Korean authorities cited recent political circumstances on the Korean Peninsula when they delivered their decision to block South Korean workers from entering Kaesong, Kim said without elaborating.
It's the latest sign of deepening tensions on the Korean Peninsula. North Korea said Tuesday that it will quickly begin "readjusting and restarting" the facilities at its main Nyongbyon nuclear complex, including the plutonium reactor and a uranium enrichment plant. Both could produce fuel for nuclear weapons. Analysts saw the statement as Pyongyang's latest attempt to extract U.S. concessions by raising fears of war. Experts estimate reactivating the reactor could take anywhere from three months to a year.
The rising tide of threats in recent weeks are seen as efforts by the North to force new policies in Seoul, diplomatic talks with Washington and to increase domestic loyalty to young North Korean leader Kim Jong Un by portraying him as a powerful military commander.
North Korea is angry about ongoing South Korea-U.S. military drills and new U.N. sanctions over its Feb. 12 nuclear test, its third. The Korean Peninsula technically remains in a state of war because a truce, not a peace treaty, ended the Korean War. The United States stations 28,500 troops in South Korea as a deterrent to North Korea.
The North's plutonium reactor began operations in 1986 but was shut down as part of international nuclear disarmament talks in 2007 that have since stalled. Tuesday's nuclear announcement underscores worries about North Korea's timetable for building a nuclear-tipped missile that can reach the United States, although it is still believed to be years away from developing that technology.
The North's rising rhetoric has been met by a display of U.S. military strength, including flights of nuclear-capable bombers and stealth jets at the annual South Korean-U.S. military drills that the allies call routine but that North Korea claims are invasion preparations.
The Kaesong industrial park started producing goods in 2004 and has been an unusual point of cooperation in an otherwise hostile relationship between the Koreas.
North and South Korea do not allow their citizens to travel to the other country without approval, but an exception had previously been made each day for the South Koreans working at Kaesong.
About 120 South Korean firms run factories in the border town of Kaesong, with 53,000 North Koreans working there. Using North Korea's cheap, efficient labor, the Kaesong complex produced $470 million worth of goods last year.
Pyongyang threatened last week to shut down the park, which is run with mostly North Korean labor and South Korean know-how. It expressed anger over South Korean media reports that said North Korea hadn't yet shut the park because it is a source of crucial hard currency for the impoverished country.
In 2009, North Korea closed its border gate in anger over U.S.-South Korean military drills, leaving hundreds of South Korean workers stranded in Kaesong for several days. The park later resumed normal operations.
"I feel worried that I'm unable to do business and also feel anxious," Joe In-suk, a 54-year-old South Korean who had planned to travel to Kaesong on Wednesday, said at a border checkpoint in Paju, South Korea. About a dozen South Korean trucks were lined up at the checkpoint leading into North Korea.
If North Korea continues to deny entrance to South Korean workers, it could be tantamount to a shutdown because Kaesong factories cannot operate production lines without supplies of raw materials sent regularly by truck from the South to the North.
A South Korean manager whose company runs a factory in Kaesong was worried that buyers would drop future orders if North Korea continued to block workers and supplies from the South.
"For some companies, today's move must have already dealt them a blow," the manager said Wednesday, speaking on condition of anonymity because he wasn't authorized to talk to the media. "We cannot produce goods without raw material."
Seoul's Unification Ministry urged Pyongyang to "immediately normalize" cross-border traffic in and out of Kaesong.
The U.S., meanwhile, called for North Korea to abandon its nuclear ambitions, saying it would be "extremely alarming" if Pyongyang follows through on a vow to restart its plutonium reactor.
White House spokesman Jay Carney said the U.S. is taking steps to ensure it has the capacity to defend itself and its allies.
But Carney noted that a string of threats from North Korea toward the U.S. and South Korea so far have not been backed up by action, calling the threats part of a counterproductive pattern. He called on Russia and China, two countries he said have influence on North Korea, to use that influence to persuade the North to change course.
U.S. Defense Secretary Chuck Hagel called North Korea's development of nuclear weapons a growing threat. In a telephone call Tuesday evening to Chinese Defense Minister Chang Wanquan, Hagel said Washington and Beijing should continue to cooperate on North Korea's pursuit of nuclear weapons and ballistic missiles.
China, North Korea's only major economic and diplomatic supporter, expressed unusual disappointment with its ally.
Hwang Jihwan, a North Korea expert at the University of Seoul, said the North "is keeping tension and crisis alive to raise stakes ahead of possible future talks with the United States."
"North Korea is asking the world, `What are you going to do about this?'" he said.
The North's nuclear statement Tuesday suggests it will do more to produce highly enriched uranium. The technology needed to make highly enriched uranium bombs is much easier to hide than huge plutonium facilities. North Korea previously insisted that its uranium enrichment was for producing electricity – meaning low-enriched uranium.
Kim Jin Moo, a North Korea expert at the Korea Institute for Defense Analyses in South Korea, said that by announcing it is "readjusting" all nuclear facilities, including the uranium enrichment plant, North Korea "is blackmailing the international community by suggesting that it will now produce weapons-grade, highly enriched uranium."
The North's plutonium reactor was disabled under a 2007 deal made at now-dormant aid-for-disarmament negotiations involving the North, the U.S., South Korea, Japan, China and Russia.
In 2008, North Korea destroyed the cooling tower at Nyongbyon in a show of commitment, but the deal later stalled after the North balked at allowing intensive international fact-checking of its past nuclear activities. North Korea pulled out of the talks after condemnation of its long-range rocket launch in April 2009.
North Korea is believed to have exploded plutonium devices in its first two nuclear tests, in 2006 and 2009.
There had long been claims by the U.S. and others that North Korea was also pursuing a secret uranium program. In 2010, the North unveiled to visiting Americans a uranium enrichment program at Nyongbyon.
Analysts say they don't believe North Korea currently has mastered the miniaturization technology needed to build a warhead that can be mounted on a missile, and the extent of its uranium enrichment efforts is also unclear. Some experts estimate North Korea may have enough plutonium for perhaps four to eight rudimentary bombs.
___
Associated Press writers Foster Klug, Hyung-jin Kim and Youkyung Lee in Seoul and Kim Yong-ho in Paju contributed to this report.
___
Follow Foster Klug on Twitter at twitter.com/APKlug; Sam Kim at twitter.com/samkim_ap; Youkyung Lee at twitter.com/YKLeeAP