As we all know, racism can be found in many professions. We've spent a lot of time over the past few months discussing racially insensitive stories within the fashion industry -- courtesy of models Jourdan Dunn, Chanel Iman and more-- and now, Alesha Dixon is sharing her experience as a woman of color in television.
The "Britain's Got Talent" host recently opened up to Cosmopolitan about the issue. In the May issue, Dixon explained, "sadly, I've learnt that prejudice still exists in parts of the entertainment industry –- I did an interview with a magazine once and the journalist quite openly said they wouldn't put a black person on the front cover because the magazine wouldn't sell. It made me angry because it shouldn't be about the colour of the person's skin, it should be about the person."
The 34-year-old singer who is not only the covergirl for Cosmo's May issue, but has also graced several other publications, told the magazine, "there still aren't many black women on prime-time TV. Times are changing, but it's interesting we're in 2013 and still experiencing firsts. Hopefully in the next 100 years things will balance even more. Britain is an amazing multicultural place to live in, and that should be celebrated and represented."
Alesha isn't the only one who has had doubts about being able to make it in entertainment because of the color of her skin. "When I first told my dad I wanted to be a singer, he said, 'What makes you think you're going to succeed? Black people from this country don't succeed.'"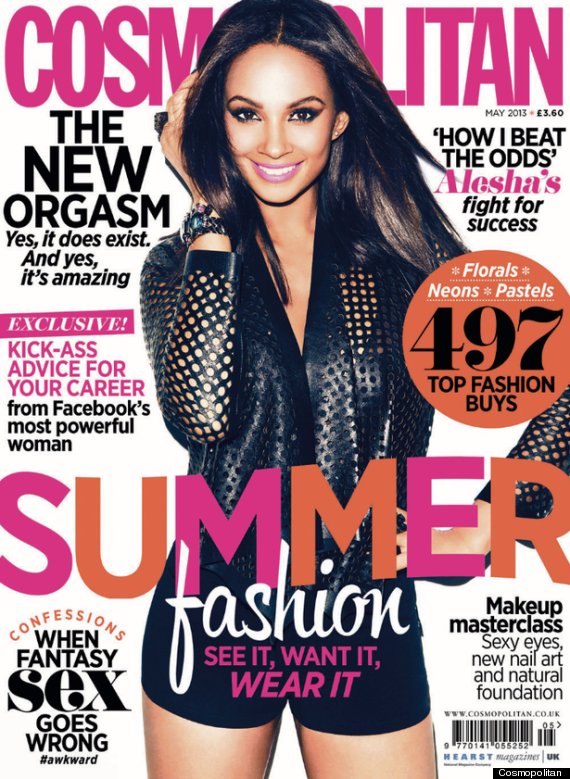 SUBSCRIBE AND FOLLOW
Get top stories and blog posts emailed to me each day. Newsletters may offer personalized content or advertisements.
Learn more