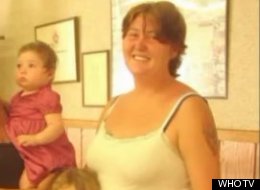 Two Iowa children were killed Monday when their mother ignored lowered train track gates and drove over the tracks, colliding with an oncoming train.
Tara Lewman, 25, initially stopped at the double set of tracks in Batavia at around 4 p.m., the Des Moines Register reported. A freight train was stopped on the set of tracks closet to Lewman's van.
After stopping for some time, WHO TV reported, Lewman drove around the lowered crossing arms and in front of the stopped train. However, the stopped train had blocked Lewman's view of a second -- moving -- train.
Two of Lewman's three children, 4-year-old Erika Clark and 5-year-old Kallie Clark, were killed when the second train struck the minivan.
Lewman and her third daughter, 1-year-old Jordan Clark, were taken by helicopter to a hospital. Their conditions have not been reported.
Iowa State Patrol Sgt. Scott Bright told KCCI that Lewman "didn't realize there was a second set of railroad tracks. … She did come to a stop and then made the decision to proceed."
Witness Greg Heger told the station when he arrived at the scene, Lewman was trying to pull the youngest child, who had been thrown from the minivan, out of a car seat.
Motorists driving around the lowered gates is a common sight at the crossing, according to the Des Moines Register.