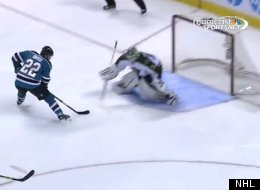 Just hours after the NHL trade deadline put an end to the rumors of shipping veteran Dan Boyle out of San Jose, the Sharks' defenseman singlehandedly opened the scoring against the Wild on Wednesday night.
Boyle made an immediate impact early in the first period when he skated end-to-end into the Wild's zone on a 5-on-3 power play. The 36-year-old swiftly eluded All-Star defender Ryan Suter before slipping the puck past Minnesota goalie Niklas Backstrom to put the Sharks on the scoreboard.
San Jose managed to hold a 4-2 lead over Minnesota in the third to win its sixth straight game.
WATCH VIDEO ABOVE