Now that spring has arrived, it feels like winter sports season is far behind us — but not for these girls. With the 2014 Olympics within reach, Hannah Teter, Arielle Gold, and Cilka Sadar are training harder than ever. We caught up with the elite athletes, all sponsored by Burton, about why they love their sport and how other girls can follow in their footsteps — er, snowtracks.
Hannah Teter
Age: 25
Hometown: Belmont, Vermont The Olympic medalist has had six World Cup victories in her career, but she says her proudest experience was winning her first Gold medal at the 2006 Games in Italy ("a moment beyond words!").
Why do you love snowboarding?
"I can't imagine a life without it! It's the one thing that has stayed true to me over the last 17 years of my life. I love it because when I'm on my board, every single problem I thought I had disappears, and my mind goes silent. All that's left behind is the bliss of being alive and enjoying one of the greatest sports ever created."
How did you first get interested in the sport?
"Growing up with four older brothers, we were into everything! They started snowboarding when I was just a tiny button and I loved watching them shredding in the backyard. After seeing them compete in a few contests, it was all over. I idolized the sport from day one."
Who do you look up to?
"I get inspired by a lot of people in the scene because everyone is pushing it to the limit at all times. It's why the sport has grown so fast and become so popular."
Arielle Gold
Age: 16
Hometown: Steamboat Springs, Colorado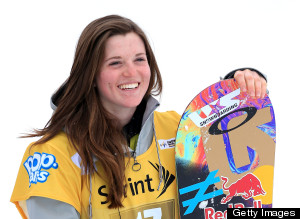 Arielle's been skiing since she was just three years old and picked up snowboarding at age seven, which explains why she makes the halfpipe look so easy. Relatively new to the scene, she knew she'd made it when when she placed third in the X Games last year. "I walked over to my parents and they were both crying—that was when it really sunk in. I'll admit it, I may have shed a tear or two!"
Why do you love snowboarding?
"I love it because you can make it what you want it to be. Whether it's riding powder, pipe, or jumps, there's something for everyone. Not to mention the fact that the people involved in snowboarding are some of the most amazing people I've ever met and I get to travel all over the world with them."
Who do you look up to?
"Everyone involved in the sport brings something unique to the table, and I try to take a little bit from each person. My family has also been super inspirational to me. My parents are two of the nicest people you'll ever meet, and both are so supportive, which has been huge. My brother is the reason I started snowboarding, and one of the reasons I'm still doing it. He is just so passionate about snowboarding and has so much fun doing it, so I try to ride with him as much as possible."
What's your advice for girls who want to do what you're doing?
"I think that the biggest thing for girls who want to learn how to snowboard is to get a pair of butt pads! I guarantee they'll be your best friend by the time you learn to stay on your feet."
Cilka Sadar
Age: 21
Hometown: Ljubljana, Slovenia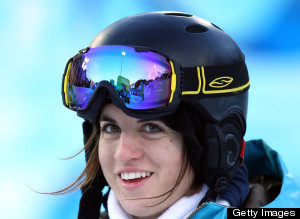 She's been pro since '07 (when she was just 14!), and as a key boarder on the Slovenian National Team, Cilka represented her country for the first time at the '10 Olympics. Keep your eyes peeled for her in 2014, too!
Why do you love snowboarding?
"I love it because it's not only a sport but also a lifestyle. You can learn so much from it—you get to travel the world, learn to be on your own, be a grown-up at times, and when you ride, it's all about fun! Snowboarding is like a playground."
How did you first get interested in the sport?
"I originally did gymnastics. After that, I really got into snowboarding because my friends were into it and it was the coolest thing to do. Shortly after that, snowboarding started taking up all my time. But I was having so much fun that I didn't mind."
What's your advice for girls who want to do what you're doing?
"My advice is to always enjoy it but also to work hard and set goals for yourself. When you reach them, then you set new ones. I'm most proud of myself when I overcome the fear from trying something new."
----

Read more on TeenVogue.com
Gabby Douglas Shares Her Fitness Secrets
Meet Four Pro Golfers Changing The Game
McKayla Maroney On Leotards, Crop Tops, And Competing For The Best Look
SUBSCRIBE TO & FOLLOW LIFESTYLE
We're basically your best friend… with better taste. Learn more