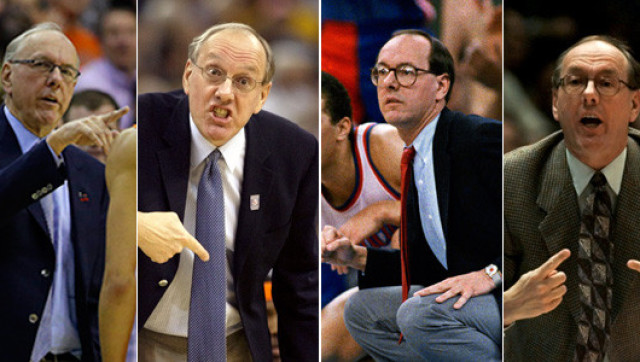 Jim Boeheim didn't expect to be in Atlanta, Ga. during in the 2013 Final Four. The longtime Syracuse coach actually planned on being in Disney World with his family. But the Orange got hot in the Big East Tournament and its 2-3 zone has left opposing offenses cold in the NCAA Tournament. Not only is Boeheim back in the Final Four with a shot at winning his second national championship, but he also joins a short list of coaches to reach the national semifinals four times... in four different decades.
Only Dean Smith, Mike Krzyzewski and Rick Pitino, a former assistant of Boeheim's in his early Syracuse years, had done it before Saturday. Boeheim previously took his alma mater to the Final Four in 1987, 1996 and 2003. His Orange defeated the Golden Eagles of Marquette in the regional championship this past weekend.
In his first Final Four appearance, Syracuse blew out Providence but lost to Indiana in the final on Keith Smart's game-winning shot. In 1996, Pitino and the Kentucky Wildcats were the ones to beat Syracuse in the final. For Boeheim, the third try proved to be the charm. In 2003, Carmelo Anthony helped Boeheim earn his first national championship.
Pitino, who qualified for the four decade club last year, is making a second straight Final Four appearance on Saturday. The Louisville coach believes that Boeheim could add a few more trips to his resume.
But will he be coaching for much longer to make it to the Final Four 10 more times?
"I've been thinking about retirement for about 15 years, that's all I can tell you," he said before Syracuse's Sweet 16 game last week, via the Associated Press. "I think everybody, once they get to 60 something, they're thinking about retirement, too. It doesn't mean you're necessarily going to. I certainly am going to sooner rather than later.
Also on HuffPost:
NCAA Tournament Buzzer Beaters
SUBSCRIBE AND FOLLOW
Get top stories and blog posts emailed to me each day. Newsletters may offer personalized content or advertisements.
Learn more