Why did Viktor Mitic buy a beat-up yellow schoolbus and get his friends to shoot it up with over 6,000 rounds of ammunition? In the name of art, of course. According to the Washington Post, the Canadian artist created the work, titled "Incident," last year after a spike in gang violence in Toronto. Yet after the recent Sandy Hook elementary school shooting, the work remains as relevant, and as troubling, as ever.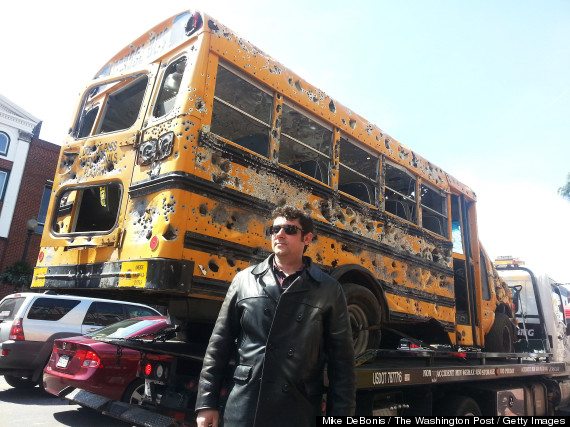 This past weekend, the piece stirred up complex emotions for many Americans when it rode on the back of a tow truck through the streets of D.C. The controversial piece is en route to an exhibition entitled "Newtown Project: Art Targets Guns" at the First Congregational United Church of Christ, which presents a possibility to engage with experiences "difficult to articulate in words."
While Mitic's work seems to be protesting the senselessness of gun violence, in an interview with the Washington Post the artist refused to identify as an activist. ""It's not the role of the artist to actually make those decisions."
However, there's no denying that the artist is fascinated by gun culture. In a recent exhibition at the Peach Gallery in Toronto, the CBC reports his works feature shot-up images of John Kennedy, Benazir Bhutto and John Lennon.
What do you think, readers? Is it the role of the artist to take a stand on the defining issues of our era or raise awareness regarding them? Should art and activism be separate disciplines?
More Arts News:
Hirst's Spot Paintings Get Their Own Catalog: "Damien Hirst's whimsical work evokes amusement, fascination and annoyance among art lovers, seemingly in equal measure," writes Allan Kozinn at the New York Times. We think annoyance definitely overshadows fascination by a landslide, but that might just be us. Out, out damned spot! (New York Times) Francis Bacon's Portrait Of His Sadistic, Alcoholic Lover Heads To Auction: Sounds like a charmer, right? The warped portrayal of Peter Lacy will head to Sotheby's, being shown for the first time in 40 years. (The Guardian)
The MoMA Tackles Sound Art: The New York Times reports: "There will also be recordings, including those from abandoned buildings in Chernobyl, flying bats and a food-processing factory in Taiwan." Sounds good to us. (New York Times)
Donald Judd Or Cheap Furniture? Can you tell minimalism from Ikea chic? Take the quiz and find out. (Reverent)
Remembering Pablo Picasso: Forty years ago, on April 8, 1973 Pablo Picasso passed away.
My mother said to me, 'If you are a soldier, you will become a general. If you are a monk, you will become the Pope.' Instead, I was a painter, and became Picasso.
SUBSCRIBE TO & FOLLOW CULTURE SHIFT
Level up. Read THIS and be the most interesting person at your dinner party. Learn more