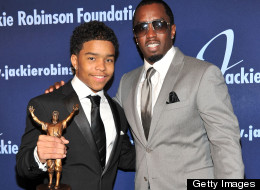 Since news broke early last year on Sean "Diddy" Combs' 18-year-old son, Justin Combs, attending UCLA on a $54,000 football scholarship, the hip-hop mogul has been pretty mum on critics, until now.
While attending a recent WWE Hurricane Sandy fundraiser, Combs admitted to E! Online that the controversy didn't affect him and felt that it was a great learning experience for the teen.
"I wasn't annoyed at all," he said. "I kind of welcomed it, because if he's going to be doing what he's doing, if he's going to be in the city of L.A., he has to be able to handle the pressure. So I thought it was a great learning tool for him to be humble, handle it and go out there and prove himself on the field and prove himself at school."
Although Justin's scholarship reportedly did not affect need-based scholarships awarded by the university, the teenager defended his allowance via Twitter shortly after the news broke stating; "Regardless what the circumstances are, I put that work in!!!! ... PERIOD."
In addition to the New Rochelle Iona Prep graduate's response, his fellow peer, Romeo Miller also came to his defense last year during an interview with The Huffington Post.
"I think that's all bullcrap…When you're raising a little kid, you tell that kid to go after their goals and their dreams. And you tell them to work as hard as anybody," he said. "So for me, I feel that it's unfortunate people are criticizing him, because this kid worked his butt off to get to where he is. And that's what I feel for any kid across the world. That's like telling a newborn baby, 'Oh this rich baby over here and this poor baby over here, throw the rich baby to the side, we don't want him to be successful or [have] any talents."
"So my thing is, if you have the talent or a dream, you just have to go out and go after it regardless of your status. Money never made me. Money comes and goes -- that's what people don't realize."