So what an honor it was for Stacy Lambe and Adam Smith when their "Texts From Hillary" Tumblr was named the best Tumblr of 2012 at the Shorty Awards on Monday night in New York.
"Thanks to everyone for their endorsement of our future jobs on Hillary's 2016 campaign," they joked in a joint acceptance speech. (Of course, the Hillary 2016 buzz continues.)
Lambe tweeted after the award ceremony, "I think it's safe to say my 15 mins are up. :)"
He added a few minutes later in a reply, "i guess it's time to make a new meme?"
Smith joked on his own Twitter account: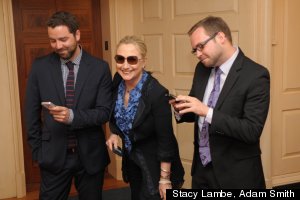 Texts From Hillary: Priceless Messages From The Secretary Of State
SUBSCRIBE AND FOLLOW
Get top stories and blog posts emailed to me each day. Newsletters may offer personalized content or advertisements.
Learn more