David Corn: McConnell Tape Story Vetted By Mother Jones' Lawyers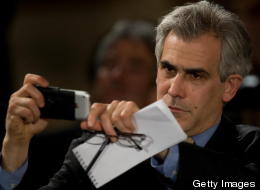 NEW YORK –- Mother Jones Washington bureau chief David Corn, who won a prestigious Polk Award for obtaining the full video documenting presidential candidate Mitt Romney's infamous "47 percent" comments at a closed-door fundraiser, was back in the news Tuesday after the magazine published a secret audio tape involving Sen. Mitch McConnell (R-Ky.).
In a tape recorded in February, McConnell and top aides can be heard discussing how to use actress Ashley Judd's mental health history and religious views against her if she were to run for Senate. McConnell's reelection campaign said in a statement that it is now working with the FBI to investigate the tape's origins. Campaign manager Jesse Benton suggested "Watergate-style tactics" were used to record the senator and his staffers.
While Corn obviously cannot reveal his anonymous source, the journalist told The Huffington Post that he "was able to verify the tape was authentic." In addition, Corn said that Mother Jones "vetted the use of the tape for the story with our lawyers, as we always do in these situations.
In a statement, Mother Jones explained that Corn and the magazine "were not involved in the making of the tape, but [published] a story on the tape due to its obvious newsworthiness." The magazine also pushed back against any suggestion of "Watergate-style" tactics in its full statement below:
We are still waiting for Sen. Mitch McConnell to comment on the substance of the story. Before posting this article, we contacted his Senate office and his campaign office -- in particular, his campaign manager, Jesse Benton -- and no one responded. As the story makes clear, we were recently provided the tape by a source who wished to remain anonymous. We were not involved in the making of the tape, but we published a story on the tape due to its obvious newsworthiness. It is our understanding that the tape was not the product of a Watergate-style bugging operation. We cannot comment beyond that.
Corn said he didn't know if the McConnell tape's source was motivated to reach out because of the "47 percent" video, but suggested that the high-profile 2012 election story could have played a role.
"Like many journalists, when someone gives you a story, you don't always ask why," Corn said. "I think it's a fair assumption the '47 percent' story might have been a factor."