Richard Sherman: Adderall Used By 'About Half The League' [UPDATED]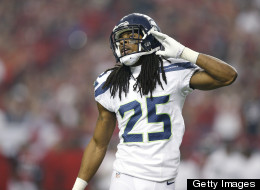 Richard Sherman is talking again, this time about the NFL's drug policy and the use of Adderall among players in the league.
Speaking to Mike Beamish of the Vancouver Sun, the Seahawks' All-Pro cornerback said that "about half the league takes [Adderall] and the league has to allow it."
Whether half the league uses the prescription stimulant or not, Adderall has become a frequent excuse among players suspended for failing drug tests. Since the beginning of the 2011 season, at least 10 suspended players have publicly blamed their positive drug tests on using Adderall, according to the Associated Press.
"It's not a secret that it's a societal trend," NFL Senior Vice President of Law & Labor Policy Adolpho Birch told the Associated Press in November 2012. "I think we're starting to see some of the effects of that trend."
Entering December of the 2012 NFL season, seven players who were suspended during the season had publicly blamed Adderall for positive tests or had been linked to the stimulant by media reports, according to the New York Times,.
Sherman and teammate Brandon Browner were given four-game suspensions by the NFL in November of last year after testing positive for performance enhancing substances, which was reportedly Adderall. Sherman appealed the suspension, arguing that the chain of custody of his urine sample was broken, and won.
"The league made a mistake in my case," Sherman told the Vancouver Sun. "Obviously, I didn't do anything, but you have to go through a process to prove you didn't do anything. There are still naysayers out there who don't believe me. But I accept it. If everybody loves you, it probably means you're not much of a player."
According to NFL.com, players are permitted to use adderall with a prescription.
UPDATE: Richard Sherman backtracked on his comments while appearing on NFL AM on Thursday morning.
"I didn't say that," Sherman said, via ProFootballTalk. "It's just another case of these writers trying to gain a little notoriety in an interview. What I said was, There's a bunch of guys in the league on prescription for Adderall, so what — you know, I've never seen people get prescribed a performance-enhancing drug, you know what I mean?"
He also said he didn't say "about half the league" uses Adderall and claimed he has never used it.
Mike Beamish told ProFootballTalk that he stands by his reporting and even sent a transcript of his interview.
The Vancouver Sun even posted a video of Sherman's conversation with Beamish.