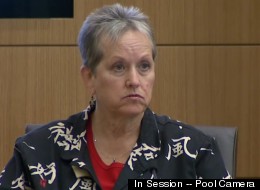 Jurors in the Jodi Arias trial are expected to have their questions put to the defense expert who claims Arias was a victim of domestic violence.
On Thursday judge Sherry Stephens began asking domestic violence expert Alyce LaViolette dozens of questions, submitted by the jury, showing they're skeptical of her diagnosis that Arias had been abused by the man she's accused of killing.
Arizona is one of three states that allow jurors to pose questions to witnesses after prosecution and defense lawyers have finished their questioning. Arias' defense attorney, Jennifer Willmott, wrapped up her redirect examination of LaViolette Thursday, giving the 12 jurors and five alternates -- seven women and 11 men –- their first opportunity to put questions to the defendant.
The jury asked about LaViolette's assessment that Arias was a victim of domestic violence and whether LaViolette has affection for Arias. One juror wanted to know why LaViolette often looked at Arias in the courtroom and smiled.
"I have done that on occasion, just to acknowledge her, but no other reason," said LaViolette, a psychologist. "I've actually tried to avoid looking at Ms. Arias."
The jurors' questions and LaViolette's answers could prove to be a defining moment in the trial that will ultimately have a large impact on Arias' fate. Arias could face the death penalty if convicted.
Arias, 32, is accused of the June 4, 2008, slaying of Travis Alexander inside his Mesa, Ariz., apartment. The prosecution contends Arias stabbed Alexander 27 times, shot him twice in the face and slashed his throat in a jealous rage. Arias told jurors she killed Alexander in self-defense during an argument over a dropped camera that followed his escalating sexual demands.
The trial is scheduled to resume at about 12:30 p.m. Eastern time when jurors' questions will again be presented to LaViolette.

Read below for minute-by-minute updates from court Friday:
Martinez asked LaViolette is she told the jury Alexander was perpetrator and Arias was the survivor. She said she does not remember saying that. Martinez asked to approach the bench and the attorneys are now at a sidebar with the judge.
The Huffington Post is live blogging Friday's testimony. Check back here for updates.