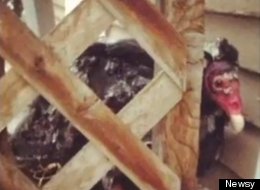 Sometimes you just can't stop cold turkey.
Two frozen turkey vultures fell out of the sky on a home in Sioux Falls, S.D. during a snowstorm earlier this week.
Adam Weber told the Argus Leader that his wife was making breakfast Wednesday when she shouted, "A large bird just fell out of the sky!"
The bird, which was completely covered in ice, was still alive when it landed on the deck, and disappeared sometime during the night.
A second vulture had landed on the roof, but Weber told the Leader on Wednesday he thinks the bird is dead, because it hasn't moved since it fell.
Weber had called Animal Control about the incidents, but staff told him that there wasn't much they could do. They noted that they had received other, similar reports from the area.
You really have to watch our for those animals falling from the sky, seemingly at random. In October 2012, a Florida teacher was injured when a mackerel came plummeting out of the air and landed on him.
Earlier that year, 100 blackbirds tragically died and fell to the ground after a fireworks display in a small Arkansas town disoriented them, causing them to fly into objects and each other.