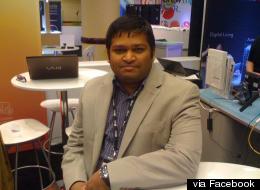 WASHINGTON -- The man found dead in the Tidal Basin early Thursday morning has been identified as missing software engineer Sarath Kumar Potharaju.
A family member spoke with NBC News 4:
Potharaju died of drowning, the family said. There was no sign of trauma or of foul play, and the family said they don't know how he went into the water.

Potharaju, from Illinois, was in D.C. for contract work and was visiting relatives. As they toured near the FDR Memorial, Potharaju excused himself to find a restroom, but never returned. His family found his rental car where he parked it near the Old Post Office.
DCist reports that Ward 2 ANC Commissioner Kishan Putta, who has been working with Potharaju's family, says three uncles arrived in D.C. on Thursday. Family members -- including a wife in Chicago, where Potharaju had been living for the last seven years, and parents in India -- are making arrangements for Potharaju's body to be returned to India.
The Hindu newspaper describes what led up to Potharaju's mysterious disappearance, as told by Potharaju Krishnamurthy, Potharaju's father:
Mr. Krishnamurthy said that his son reached Washington D.C on Friday. Accompanied by Mr. Vasu and his family, they set out for a weekend trip and visited Niagara Falls on Saturday.

On Sunday, they booked a tourist cab for seeing places around Washington. They stopped at a park to have snacks. Mr. Srinivasu along with his family boarded the cab presuming that Mr. Sarath Kumar had already boarded the cab. After travelling for a while, they noticed that Mr. Kumar was not in the bus and alighted from the bus.

They reached the park where they had last seen Mr. Kumar, but the latter was not to be seen. A complaint has been lodged with the police and no clues were available till now. "My son was in touch with me till 1.48 p.m. on Sunday and then we lost the connection. His phones were switched off," says Mr. Krishnamurthy.
Another dead man was found in the Tidal Basin on April 6. Putta told DCist that he is concerned about safety in the area.
"We don't know what happened here, he could just have fallen in -- anyone could fall in if they take the wrong step," Putta told DCist.