Billionaire William Koch Awarded $12 Million By Jury In Wine Fraud Case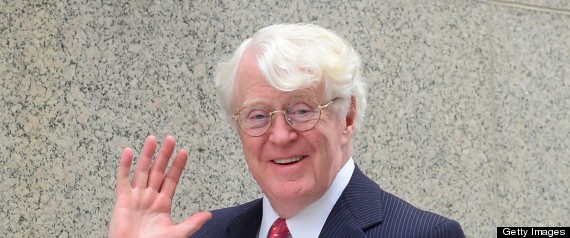 NEW YORK -- A Florida billionaire awarded $12 million Friday by a Manhattan jury in his dispute over phony vintage wine vowed to do more to expose wine frauds. The energy maven and yachtsman also proclaimed it his happiest day since winning the America's Cup in 1992.
"Out of sight! Over the moon!" William Koch said as he described his feelings after emerging giggling with glee from a courtroom in U.S. District Court in Manhattan. "We weren't even expecting any damages and we got $12 million. Unbelievable!"
The verdict came against California businessman Eric Greenberg, who insisted throughout a three-week civil trial that he never intentionally sold a fake bottle of wine among auctions that generated about $42 million for him over an eight-year period. The trial involved alleged counterfeit bottles of Bordeaux labeled as if they were made from 1864 to 1950.
In a statement, Greenberg called the verdict "a disappointment because I believed all the consigned wine to be authentic."
He vowed to appeal, adding that "we believe that we acted honorably and tried to do the right thing for all concerned."
Outside court, Greenberg declined to comment beyond his statement.
Koch's lawyer, John Hueston, suggested that a criminal probe of Greenberg was underway, saying: "We're cooperating with the FBI." He declined to elaborate.
In a chilly drizzle outside court, the 72-year-old Koch celebrated with his lawyers, posed for pictures and met briefly with at least one of the eight jurors who decided on Thursday that Koch had been defrauded, awarding him $380,000 in compensatory damages. Other jurors wished him well as he left court. One even tried to quietly slip him a note in a rolled up piece of paper as she shook his hand before she left the jury box.
Koch, the brother of famous industrialists and conservative political supporters David and Charles Koch, walked out of the courthouse with his lawyer, each of them displaying one of the bottles at stake in the case.
Jurors had returned Friday to hear Koch and Greenberg testify again and deliberate over punitive damages.
"I'm very sorry I had counterfeit wine," Greenberg told them. "It's a horrible thing. Both of us have lost millions of dollars."
Greenberg estimated that the case had cost both sides a total of $17 million.
"This is an absolute waste of money, a waste of resources ... and this has wasted three weeks of these people's lives," he said, glancing toward the jury. The verdict was another blow to Greenberg, a former billionaire who built two Internet consulting companies before the 2000 collapse of those stocks reportedly reduced his net worth by as much as 90 percent.
Jury foreman Darrell Paul, 41, of the Bronx, called Koch "amazing" as he described how jurors arrived at the $12 million figure. He said they each wrote what they thought Koch deserved and then averaged it. He said the most a juror thought he deserved was $25 million while the least was $5 million. Paul said he had recommended $10 million.
The case against Greenberg is one of four civil cases Koch is pursuing in the courts. He said he planned to use the $12 million to continue his crusade to clean up the wine auction industry, including by creating a website that highlights fake wines and who sells them.
Koch said he would include in the list the 421 bottles he had identified in his own collection as fake after buying them for $4.4 million over the years.
"I'm sad at the amount of fakes," he said. "That's why I stopped buying very old wines."
He added: "The ones that are real I still love."
Also on HuffPost:
Loading Slideshow
Dr. Evil and Lloyd Blankfein

Dr. Evil from <em>Austin Powers</em>, played by Mike Meyers, and Goldman Sachs CEO Lloyd Blankfein.

Alistair Hennessey and Vikram Pandit

Alistair Hennessey from <em>The Life Aquatic with Steve Zissou</em>, played by Jeff Goldblum, and former Citigroup CEO Vikram Pandit.

Emperor Palpatine and Rupert Murdoch

Emperor Palpatine from <em>Star Wars</em>, played by Ian McDiarmid, and News Corp. CEO Rupert Murdoch.

Nurse Ratched and Meg Whitman

Nurse Ratched from <em>One Flew Over The Cuckoo's Nest</em>, played by Louise Fletcher, and Hewlett Packard CEO Meg Whitman.

Ashley Schaeffer and Richard Branson

Ashley Schaeffer from HBO's <em>Eastbound and Down</em>, played by Will Ferrell, and Virgin CEO Richard Branson.

Lex Luther and Jeff Bezos

Lex Luthor from <em>Superman Returns</em>, played by Kevin Spacey, and Amazon CEO Jeff Bezos.

Regina George and Marissa Mayer

Regina George from <em>Mean Girls</em>, played by Rachel McAdams, and Yahoo CEO Marissa Mayer.

White Witch and Abigail Johnson

The White Witch from <em>The Chronicles of Narnia</em>, played by Tilda Swinton, and Fidelity Investments CEO Abigail Johnson.

Ty Moncrief and Mike Jeffries

Ty Moncrief from <em>Drop Zone</em>, played by Gary Busey, and Abercrombie and Fitch CEO Mike Jeffries.

Emperor Commodus and Larry Page

Emperor Commodus from <em>Gladiator</em>, played by Joaquin Phoenix, and Google CEO Larry Page.

Goldfinger and Jeff Immelt

James Bond villain Goldfinger from <em>Goldfinger</em>, played by Gert Fröbe, and General Electric CEO Jeffrey Immelt.

Daniel Plainview and Reed Hastings

Daniel Plainview from <em>There Will Be Blood</em>, played by Daniel Day-Lewis, and Netflix CEO Reed Hastings.

Boris Badenov and Carlos Slim

Boris Badenov from <em>Rocky and Bulwinkle</em>, voiced by Paul Frees for much of the show's run, and Telmex CEO Carlos Slim.

Stuntman Mike and Brian Moynihan

Stuntman Mike from <em>Deathproof</em>, played by Kurt Russell, and Bank of America CEO Brian Moynihan.

Count Rugen and Larry Ellison

Count Rugen from <em>The Princess Bride</em>, played by Christopher Guest, and Oracle CEO Larry Ellison.

The Boss and Kenneth Chennault

The Boss from <em>Lucky Number Slevin</em>, played by Morgan Freeman, and American Express CEO Kenneth Chennault

Henry Evans and Mark Zuckerberg

Henry Evans from <em>The Good Son</em>, played by Macaulay Culkin, and Facebook CEO Mark Zuckerberg.

The Donald and Donald Trump

Chairman of the Trump Organization Donald Trump and Donald Trump from <em>The Apprentice</em>.
Copyright 2014 The Local Paper. All rights reserved. This material may not be published, broadcast, rewritten or redistributed.