For the first time in his illustrious 17-year NBA career, Kobe Bryant is vulnerable as a basketball player.
Friday night during a Los Angeles Lakers win over the Golden State Warriors, Bryant tore his Achilles tendon, taking him out of basketball for six months at the bare minimum.
A torn Achilles is a brutally painful injury that typically takes months to heal, but in this case, healing could feasibly take up to a year. Remember, Bryant came into the league at 17 and has logged what translates to an extra three seasons given his time with Team USA and the playoffs, per ESPN Stats & Info.
Bryant, who will turn 35 in August, is signed with the Lakers through next season, but given the power of the amnesty clause, that contract can be mitigated. The Lakers, on the heels of owner Jerry Buss' death, have a great opportunity to send a message to the entire league. In a bottom-line driven league and world, it's not always about the money.
There is, of course, the slightly important matter of Dwight Howard, who himself will be a free agent when this season ends. If the Lakers do not amnesty Bryant and re-sign Howard, they once again would maintain the highest payroll in the NBA and take on $85 million in luxury tax fees.
If they amnesty Bryant, they would still have to pay him the $30.4 million remaining on his contract after this season, but in turn would avoid tens of millions of dollars in taxes and maintain essential building blocks for the future, including the full mid-level exception. Ironically, a key player in this drama is Laker guard Steve Nash. When he completed his sign-and-trade with the Lakers, Phoenix received two of LA's first-round draft picks (2013 and 2015) and two more second-rounders in 2013 and 2014. As one Eastern Conference scout deftly pointed out to me, it was in effect, Nash's final "assist" to the Suns.
While GM Mitch Kupchak and the Buss family debate Bryant's fate, let's take a look at some of the most interesting possibilities moving forward.
1). The Lakers do NOT amnesty Bryant and he rehabs throughout the 2013-14 regular season. Maybe he comes back next year, maybe he doesn't. Either way, the Lakers decide they cannot afford to re-sign Howard, who walks in free agency after a vastly disappointing season in Hollywood.
2). The Lakers amnesty Bryant and one lucky team intelligently picks him up on a super cheap amnesty bid. He rehabs for 10 months, pulls off a miraculous comeback and finds himself ready for the 2014 postseason. (Yes, I am looking directly in your eyes Danny Ainge and the Celtics!) Bryant becomes best friends with Celts' forward Paul Pierce and ends his career in the Garden with the elusive sixth championship he's been coveting. Meanwhile, when it is time to retire, he sticks it one more time to the Lakers, and retires in green.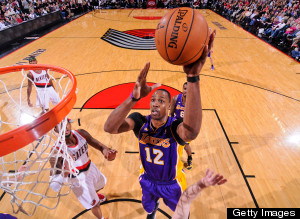 Should the Lakers elect not to amnesty Bryant, the prospect of re-signing Dwight Howard becomes incredibly expensive and difficult. (Getty Images)
3). Bryant stays with the Lakers ... sort of. The Lakers amnesty Bryant and the league enters a bidding war -- well, at least all of the teams under the cap do. Eventually, he becomes an unrestricted free agent at the end of the 2013-14 season and signs a small contract with the Lakers, so he can retire in LA.
4). Bryant rehabs for eight months and goes back to wearing No. 8 for the sensational Nike tie-in. Wrap your mind around that one for a minute. However Bryant, a la Chauncey Billups, comes back way too early from the torn Achilles and never quite regains the same explosiveness he had before. Remember, before his Achilles injury, Billups -- then 35 -- wasn't the dynamic All-Star of old, but he was still a guy who could get into the lane. Since coming back, he has become a stationary 3-point shooter who takes six shots a game, four of which come from outside, the highest per shot attempt of his career. He also had a +10.6 points per 100 possessions ratio last year, whereas in 2012-13, he's tied for the third worst clip on the team, per NBA.com.
5). Exhausted with basketball, Bryant retires as a Laker just the way he planned ... only to become an All-Pro wide receiver for the expansion Los Angeles NFL franchise. Despite a lackluster 4.6 40 time, he displays great hands and Jerry Rice type route-running ability and solidifies himself as what Michael Jordan was not: a great two-sport athlete with championship rings in two different pro sports.
CORRECTION: A previous version of this article incorrectly stated in one sequence that the Lakers could cut Bryant. Amnesty is the correct term for Bryant.

Email me at jordan.schultz@huffingtonpost.com or ask me questions about anything sports-related at @Schultz_Report.
FOLLOW HUFFPOST