'Mistaken For Strangers' Trailer: National Documentary, Which Opens Tribeca Film Festival, Gets First Look (VIDEO)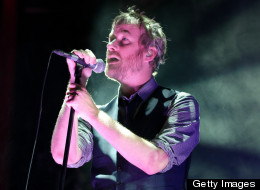 "Mistaken For Strangers," the new documentary about indie rock outfit The National, opens the 2013 Tribeca Film Festival on Wednesday in New York. Fans who can't attend the screening, however, can take refuge in the first "Mistaken For Strangers" trailer, which presents the central conceit of the film: that lead singer Matt Berninger's brother, Tom, is a ne'er-do-well screw-up looking to make good.
"I just want to make something good for him, as well as myself," a tearful Tom says during one of the film's confessionals. The trailer makes good use of the band's hit song "Fake Empire," but not the track that gives the film it's name.
"Mistaken For Strangers" debuts on April 17 at the Tribeca Film Festival. The National have a new album, "Trouble Will Find Me," coming out on May 20. Check out the track listing below. Watch the "Mistaken For Strangers" trailer in the window above.
I Should Live in Salt
Demons
Don't Swallow the Cap
Fireproof
Sea of Love
Heavenfaced
This is the Last Time
Graceless
Slipped
I Need My Girl
Humiliation
Pink Rabbits
Hard to Find
Music video by The National performing Mistaken For Strangers. © 2007 Beggars Banquet Records LTD

Music video by The National performing Bloodbuzz Ohio. (c) 2010 4AD Ltd. The first video from the new album "High Violet". Purchase the album: highviolet.com Credits: directed by hope hall, andreas burgess & carin besser edited by andreas burgess & purcell carson produced by tom berninger & the national camera: hope hall assistant camera: matt livingston bartender: da pennebaker thank you to flatbush farm, milk bar and complete studios

The National playing "Fake Empire" on Letterman. From July 24, 2007.

The National perform "Sorrow" Live at the Brooklyn Academy of Music on May 15, 2010. A VEVO event on YouTube. Directed by Chris Hegedus and DA Pennebaker, the proceeds from the event will benefit the Red Hot Organization www.redhot.org Official site for The National www.americanmary.com Official site for DA Pennebaker and Chris Hegedus www.phfilms.com

The National perform "Slow Show" Live at the Brooklyn Academy of Music on May 15, 2010. A VEVO event on YouTube. Directed by Chris Hegedus and DA Pennebaker, the proceeds from the event will benefit the Red Hot Organization www.redhot.org Official site for The National www.americanmary.com Official site for DA Pennebaker and Chris Hegedus www.phfilms.com

Director's Cut: The National perform "England" live at the Brooklyn Academy of Music on May 15, 2010. A VEVO event on YouTube. Directed by Chris Hegedus and DA Pennebaker, the proceeds from the event will benefit the Red Hot Organization www.redhot.org Official site for The National www.americanmary.com Official site for DA Pennebaker and Chris Hegedus www.phfilms.com

The second video from High Violet - bit.ly Directed Tom Berninger www.4ad.com Buy High Violet from Amazon amzn.to Buy High Violet from Beggars: bit.ly

The National perform "Squalor Victoria" Live at the Brooklyn Academy of Music on May 15, 2010. A VEVO event on YouTube. Directed by Chris Hegedus and DA Pennebaker, the proceeds from the event will benefit the Red Hot Organization www.redhot.org Official site for The National www.americanmary.com Official site for DA Pennebaker and Chris Hegedus www.phfilms.com

Music video by The National performing A Skin, A Night - A Film by Vincent Moon. (C) 2008 Beggars Banquet Records LTD.

The National perform "Mr. November" Live at the Brooklyn Academy of Music on May 15, 2010. A VEVO event on YouTube. Directed by Chris Hegedus and DA Pennebaker, the proceeds from the event will benefit the Red Hot Organization www.redhot.org Official site for The National www.americanmary.com Official site for DA Pennebaker and Chris Hegedus www.phfilms.com

The National perform "Terrible Love" Live at the Brooklyn Academy of Music on May 15, 2010. A VEVO event on YouTube. Directed by Chris Hegedus and DA Pennebaker, the proceeds from the event will benefit the Red Hot Organization www.redhot.org Official site for The National www.americanmary.com Official site for DA Pennebaker and Chris Hegedus www.phfilms.com

Director's Cut: The National perform "Anyones Ghost" live at the Brooklyn Academy of Music on May 15, 2010. A VEVO event on YouTube. Directed by Chris Hegedus and DA Pennebaker, the proceeds from the event will benefit the Red Hot Organization www.redhot.org Official site for The National www.americanmary.com Official site for DA Pennebaker and Chris Hegedus www.phfilms.com

The National perform "Vanderlyle Crybaby Geeks" Live at the Brooklyn Academy of Music on May 15, 2010. A VEVO event on YouTube. Directed by Chris Hegedus and DA Pennebaker, the proceeds from the event will benefit the Red Hot Organization www.redhot.org Official site for The National www.americanmary.com Official site for DA Pennebaker and Chris Hegedus www.phfilms.com

Music video by The National performing Lit Up. © 2005 Beggars Banquet Records LTD

Music video by The National performing Abel. © 2005 Beggars Banquet Records LTD

Music video by The National performing Apartment Story. © 2007 Beggars Banquet Records LTD

On May 15th at 8PM ET The National bring a live concert stream to fans worldwide. Directed by Chris Hegedus and DA Pennebaker, the proceeds from the event will benefit the Red Hot Organization www.redhot.org Official site for The National www.americanmary.com Official site for DA Pennebaker and Chris Hegedus www.phfilms.com