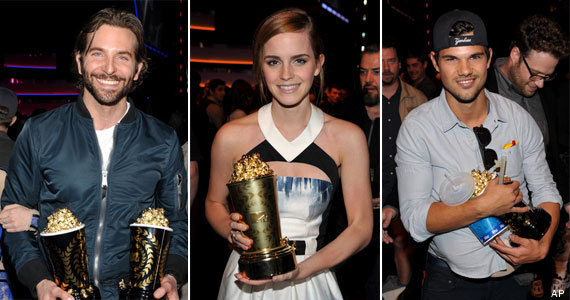 Los grandes ganadores de los MTV Movie Awards 2013 fueron "The Avengers" y "Silver Linings Playbook" con tres trofeos cada uno.
"The Avengers" triunfó por Mejor Película, Mejor Villano (Tom Hiddleston, por interpretar a Loki) y Mejor Pelea (todos los Vengadores contra Loki). Por su parte, los protagonistas de "Silver Linings Playbook", Bradley Cooper y Jennifer Lawrence se llevaron las mejores actuaciones masculina y femenina y compartieron uno más por Mejor Beso (aunque ella no asistió a la ceremonia).
La actriz de "Pitch Perfect" Rebel Wilson fue la conductora del show de MTV, con muchos chistes ácidos. Ella también se llevó sus Movie Awards, ya que obtuvo Revelación del Año y Mejor Momento Musical, que compartió con sus co-estrellas de la nombrada cinta.
Jamie Foxx y Samuel L. Jackson se llevaron a casa la terna de "Mejor Momento WTF", por su confrontación en "Django Unchained" de Quentin Tarantino.
Taylor Lautner de "The Twilight Saga: Breaking Dawn Part 2" fue el único miembro del reparto representando la última cinta de vampiros, y ganó dentro de la nueva categoría de Mejor Actuación sin Camisa. Bromeando, lo aceptó tomando una gran soda y con un vientre falso, como si hubiera subido muchísimo de peso.
Entre los premios especiales, se reconoció a Emma Waston con el "Trailblazer Award", de manos de sus co-estrellas Eddie Redmayne ("My Week With Marilyn") y Logan Lerman ("The Perks of Being a Wallflower"). Will Ferrell fue honrado con el "Comedic Genius Award", de parte del actor de "Game of Thrones" Peter Dinklage y, por último, Jamie Foxx recibió de su compañera en "Django Unchained", Kerry Washington, el "Generation Award".
Otros ganadores, que no fueron televisados, incluyeron a Suraj Sharma, por "Mejor Actuación de alguien realmente asustado" gracias a "Life of Pi" y Mejor Dúo en Pantalla para Mark Wahlberg y Seth MacFarlane de "Ted".
Los buenos momentos musicales del show estuvieron a cargo de Macklemore & Ryan Lewis, quienes cantaron su hit "Can't Hold Us", mientras que Selena Gomez interpretó su nueva canción, inspirada en Bollywood, "Come & Get It."
Entre los famosos que dijeron presente para entregar los MTV Movie Awards, se encontraron Brad Pitt, Zac Efron, Kim Kardashian, Steve Carell, Amanda Seyfried, Tyler Posey, Chris Pine, Zoe Saldaña, Zachary Quinto, Seth Rogen, Michelle Rodriguez, Vin Diesel, Paul Walker, Jordana Brewster, Ke$ha, Snoop Lion y Chloë Grace Moretz, entre otros.
FOTOS DE LOS MTV MOVIE AWARDS 2013:
PHOTO GALLERY
BEFORE YOU GO
MTV Movie Awards 2013 - show
PHOTO GALLERY
MTV Movie Awards 2013 - show