Two explosions have been reported near the finish line of the Boston Marathon this afternoon. While it is unclear the extent of the destruction it clear that many have been injured and possibly died. Twitter has responded with prayers for those affected.

Loading Slideshow
Tina Boehn

@BestEarthPix Not becoming a sick and twisted place, the world IS one and has been for quite some time. #PrayersForBoston

Ben Pereira

There is something wrong with society #prayersforboston

Brian Whatcott

What is wrong with people!? #prayersforboston

Molly Kunst

People spend their lives training for this marathon and why people had to ruin it for them I will never understand #prayersforboston

#DopeBoyzLuvMe 5/7

MAAAAAN life's too short to have anger inside. SPREAD LOVE #prayersforboston

Barbara Wales

Saying prayers for all the #BostonMarathon runners and the crowd. Thank you, first responders. #PrayersForBoston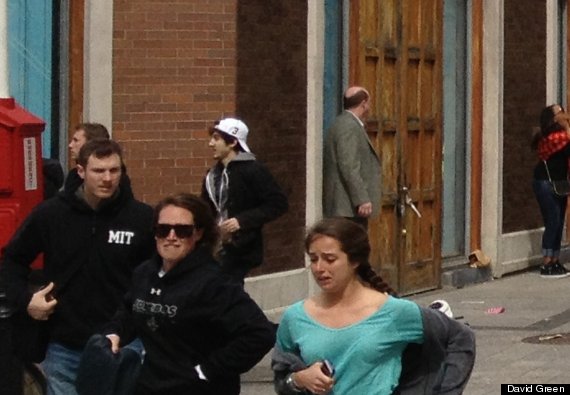 Just hours after the FBI released the first photos of suspects in the Boston Marathon bombing, a new photo of Suspect 2 may have emerged.
David Green, 49, of Jacksonville, Fla., had just completed his first Boston Marathon, when he snapped a picture with his iPhone 4S, taken at 2:50, just after the two blasts ripped through the finish line area, killing three people and injuring more than 180 others.
The FBI has not publicly confirmed this photo as Suspect 2, but Green told the Huffington Post that an agent told him, "this is probably the best we have right now."
The man who appears to be Suspect 2 is wearing a white hat with a "3" on the side as seen in the publicly-released photos.
Read more here.