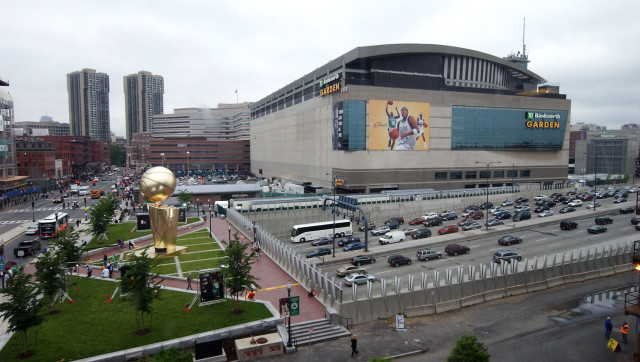 A jittery nation still got its games on Monday night following the blasts at the Boston Marathon. Major sporting events outside the city continued, albeit some under heightened alert.
The Boston Bruins' game against the Ottawa Senators at TD Bank Garden in Boston was postponed Monday, but elsewhere it was business as usual for big league sports.
The Brooklyn Nets played host to the Washington Wizards at Barclays Center at 7:30 p.m. Eastern. The New York City Police Department announced earlier it was beefing up security at "prominent locations," according to the Associated Press.
"The safety and security of our guests and employees at Barclays Center are of paramount importance," Nets and Barclays Center CEO Brett Yormark said in an email to The Huffington Post. "Barclays Center staff works very closely with the NYPD and other New York City agencies to ensure our stringent safety and security policies are strictly enforced."
The Nets declined to give details of any additional security measures.
In Los Angeles, the Dodgers' game against the San Diego Padres at Dodger Stadium will feature increased patrols, the Los Angeles County Sheriff's Department told AP.
Meanwhile, the Oklahoma City Thunder hosted the Sacramento Kings on Monday, just four days short of the 18th anniversary of the terrorist bombing that killed 168 in that city.
"We take the necessary precautions every night," a Thunder representative told HuffPost. "The police department and building are working together to make sure that we are secure."
One of the next domestic marathons in a metropolitan area is the Salt Lake City Marathon on April 20.
Entrant Aaron Hursman of Frisco, Texas, told HuffPost that his sister, with whom he registered, texted him after the Boston explosions to see if he still wanted to travel to Salt Lake City for the run. Hursman plans to go, saying the event was not the kind of high-profile race that would be a likely target.
"I feel OK running this weekend," he told HuffPost in an email. "We'll see how my wife feels about it after we talk tonight."
Nena Schvaneveldt, another entrant, didn't seem worried about security at the race.
"I am sure that race officials for Salt Lake will take extra precautions for the safety of runners, volunteers, and spectators," she told HuffPost.
The Oklahoma City Memorial Marathon is slated for April 28, but as of Monday, no major changes were in place for the race, NewsOK reports.
"We don't want to make a knee-jerk reaction, but we want to make the right decision at the right time," Kari Watkins, executive director of the Oklahoma City National Memorial, said at a news conference Monday, according to the outlet.
Meanwhile, the next international-class marathon, Sunday's London Marathon, said earlier today it was reviewing its security procedures, the Mirror reported. More than 36,000 participants are expected for the 2013 Virgin London Marathon, with hundreds of thousands of spectators lining the route.