The Best Butter Crackers: Can Anyone Top Ritz? (TASTE TEST)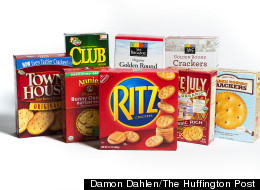 Crackers aren't the most exciting food in the world -- you'll rarely crave crackers the way you'd lust after a burger or chocolate. But they're absolutely necessary at parties, serving as a vehicle for your favorite cheeses and dips. And once you bite into those flaky, buttery little vessels, it's pretty hard to stop eating them.
So what's the best butter cracker on the market? Our editors blind-tasted eight popular brands to see which is best. We judged them based on texture, saltiness, butteriness, and their ability to hold toppings. Of course, we were expecting the classic Ritz cracker to out-perform the rest -- but check out the slideshow below and you may be surprised by the results.
What's your go-to butter cracker? Leave us a comment below.
As always, this taste test is in no way sponsored or influenced by the brands involved.
Comments: "Rich, buttery-but-not greasy, and perfect." "Good amount of salt." "Good butter flavor, good texture, good salt." "Very flaky -- possibly TOO flaky." "Buttery, ideal cracker, but probably terrible for us."

Comments: "A little too greasy, but delicious." "The perfect cracker?" "Lightly sweet, not too heavy. I like this one."

Comments: "A little bland, lacking salt." "Nice overall flavor, but not enough salt." "Wait, I like this one." "Bland and bready." "A dry version of Ritz."

Comments: "Weirdly flavorful without being buttery." "Soft, not crisp enough." "The other perfect cracker besides Ritz?" "Tastes like paper." "Firmly eh."

Comments: ""Light, flaky and buttery." "Not enough salt." "Good butteriness, but not enough salt." "Could be more buttery." "Almost totally unremarkable."

Comments: "Too hard, not flaky." "Not a home run." "Would be a good base for cheese, but not on their own." "Dry, gummy and unpleasant."

Comments: "Too thick." "Not crispy/flaky enough." "A little tough." "Very salty." "Dry and overbaked."

Comments: "Pale, dense, and almost like raw dough." "A bad 'white bread' taste." "Too dry." "Is this an oyster cracker?" "Looks so sad and pale, but tastes good."

Comments: "Too hard. They look like they'd be cheese crackers, but they're not." "Baked? Slight goldfish resemblance." "I love the texture, but they're a bit too dry." "Too hard. Overbaked?"
This story appears in Issue 69 of our weekly iPad magazine, Huffington, available Friday, Oct. 4 in the iTunes App store.