THE ASSOCIATED PRESS
WASHINGTON -- The White House says President Barack Obama has been notified about the explosions at the finish line of the Boston Marathon.
The White House says the administration is in contact with state and local authorities and directed his administration to provide whatever assistance is necessary in the investigation and response.
Vice President Joe Biden was on a conference call with gun control activists when staffers turned on televisions in his office Monday to view coverage of the explosions.
"Apparently there has been a bombing," Biden said. "I don't know any of the details of what caused it, who did it. I don't think it exists yet. But our prayers are with those people in Boston who suffered injury."
Shortly after the explosions, Secret Service shut down Pennsylvania Avenue outside the White House, cordoning off the area with yellow police tape. Several Secret Service patrol cars also blocked off the entry points to the road.
The White House was not on lockdown and tourists and other onlookers were still able to be in the park across the street from the executive mansion.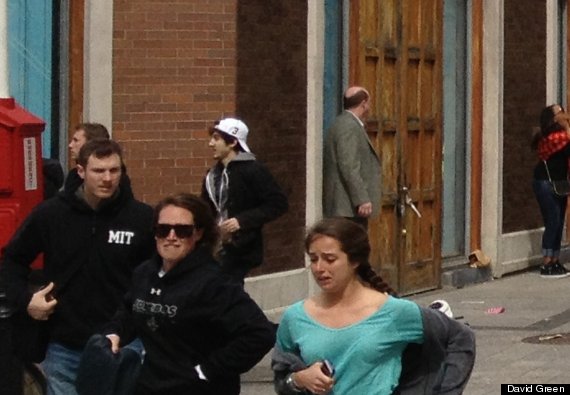 Just hours after the FBI released the first photos of suspects in the Boston Marathon bombing, a new photo of Suspect 2 may have emerged.
David Green, 49, of Jacksonville, Fla., had just completed his first Boston Marathon, when he snapped a picture with his iPhone 4S, taken at 2:50, just after the two blasts ripped through the finish line area, killing three people and injuring more than 180 others.
The FBI has not publicly confirmed this photo as Suspect 2, but Green told the Huffington Post that an agent told him, "this is probably the best we have right now."
The man who appears to be Suspect 2 is wearing a white hat with a "3" on the side as seen in the publicly-released photos.
Read more here.