Sheldon Stadnyk read with excitement the text message from his daughter.
"I'm very proud of my time," Dawn Mathis told her father after completing her second Boston Marathon in 3 hours and 40.25 minutes.
Not long after, he heard the television announcement. Two explosions had taken place at the finish line of a race that Stadnyk knows well.
"That was the last thing I heard from her," said the chief medical officer for North Colorado Medical Center. In less than an hour, Stadnyk went from elated to terrified.
It didn't take too long for Stadnyk to learn his daughter was OK, but it seemed like forever, he said.
"It takes forever to get through that line," he said about the queue from which runners exited the race. "They drape you in a Mylar blanket and move you through to get you hydrated and something to eat. It is so crowded around there. She was within a block when the bombs went off."
Stadnyk didn't hear from his daughter right away because she didn't even know for sure what was going on until she returned to her hotel.
Two simultaneous explosions at the 117th annual Boston Marathon about 100 yards apart killed three and injured more than 130 others, with many of those losing limbs.
At least nine Weld County entrants ran in Monday's race, which is the Super Bowl for runners. All nine were accounted for, but clearly shaken.
Some were unable to be reached because of jammed phone lines, some were not ready to talk about their experiences, and others were just thankful for their lives.
Robin Bittner of Windsor; Martin Damrell of Eaton; Luke Stephenson , Steve Anderson and Sarah Adams of Greeley; and Jonathan Rode and Kathleen Skiba of Erie all participated.
Two former Greeley residents, Steve Monroney and Heidi Hurst, also ran in the race. Monroney recently moved to the Denver area, but still runs for Bell's Running, and Hurst, a Greeley West graduate, is attending Harvard University.
Stephenson lined up just behind the professional runners, waiting anxiously to start an event he'd dreamed of participating in since he was in high school.
"I was looking around at these other runners," he said. "They were all well fit. It looked like a bunch of thoroughbred horses at the Kentucky Derby. All I could think of was, 'Am I at the right place?' "
For the 2 hours, 49 minutes and 1 second it took the 26-year-old to finish the Boston Marathon, he was.
Just a couple hours later, however, those crossing the finish line experienced something unimaginable.
"It is a very sad day," Mathis said from her hotel room Monday evening. "It took 10-12 minutes to even hear sirens. There are so many streets closed off and so many people, we didn't know what had happened. It was very loud, but we thought it might have just been an electrical explosion or something. When we came back to the hotel, there were people in the lobby with the local Boston news on."
Hours after things seemed to calm down, Mathis said she was still a bit worried.
"We are on the 27th floor," she said. "We were allowed to go up and down, but we didn't for the first couple of hours. We just stayed in the lobby because we wanted to be able to hear right away if we needed to evacuate. We didn't want to hear it from the 27th floor."
Stadnyk, who ran in 10 consecutive Boston Marathons from 2000-09, said what was supposed to be a day of excitement turned into another day in American history.
"There is a rage and anger ..." Stadnyk said. "As a human, I'm shocked. As a physician my heart goes out to those lost. As a runner, this is very scary. We train all year for the Boston Marathon. But no one can train for something like this. What a great race. What a great tradition. My fear is it's going to (deter) people for whom this is the pinnacle of their career."
Adams is employed in the athletic department at the University of Northern Colorado. UNC officials said she and her husband, John, were unharmed and that Adams was three-tenths of a mile from the finish line when the race was called.
Bittner declined to comment. The marathon's website had the 39-year-old finishing the race about one hour before the explosions.
A third member of the Bell's Running team, Damrell, was also OK, according to Andy Eberhard, Bell's Running manager.
Hurst's mother, Patty Mayer, posted on her Facebook page that Hurst was at mile 25.7 when the explosion happened. She is fine, as are all her friends and family that were with her, the post said.
Skiba had just crossed the finish line, picking up her personal things, when the blast went off behind her.
"I heard the explosion; I looked," she said. "There was lots of smoke, lots of people running. The place was chaos."
Skiba hurried the other way trying to get around barriers. She crossed the finish line 13 minutes before the first explosion went off at 2:50 p.m.
The 50-year-old spoke by phone from the Westin Copley Place hotel where she was waiting with her boyfriend, Dan Reinhardt, and other evacuees to return to her hotel located in the evacuated area of the city.
Stephenson said the mood in Boston was surreal.
"Everyone is still shaken up. It was just so unexpected," he said. "I'm not sure if everything has sunk in yet. Right now, I'm just feeling very grateful because you realize these devices could have gone off at anytime.
"I feel for everyone involved. It makes the race very insignificant when something like this happens."
Mathis agreed, adding it was a sad night in a town that is usually revelling in Patriot's Day celebration on this day each year.
"It is so sad in so many ways that someone would do this," she said as she looked out of the window of her hotel room overlooking Boylston Street, which is the main street for the event and usually busy with people. "There is no one on the street. It is a bummer. It is just a wonderful event."
Tribune reporter Katharina Buchholz contributed to this report.
Join the Conversation View and add comments -- ___
Boston Marathon Explosion (GRAPHIC PHOTOS)
04/19/2013 2:30 AM EDT
GLOBE: Bombing Suspect In Custody, Another Remains On The Loose
One marathon suspect has been captured, according to an official with knowledge of the investigation.
Another remains on the loose in Watertown after a firefight with police. Authorities have established a 20-block perimeter as they search for him.
Read more here.
04/19/2013 12:44 AM EDT
Unconfirmed Photo Of Suspect 2 In Boston Marathon Bombing Emerges On Facebook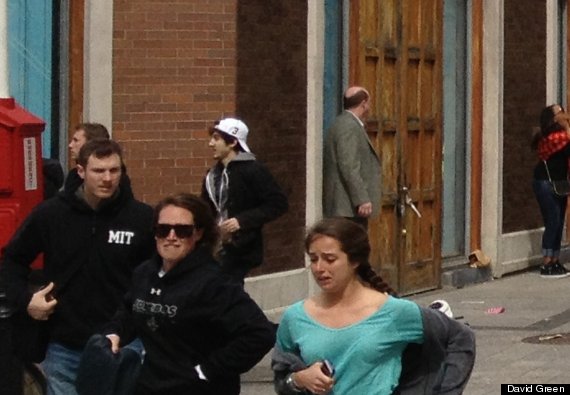 Just hours after the FBI released the first photos of suspects in the Boston Marathon bombing, a new photo of Suspect 2 may have emerged.
David Green, 49, of Jacksonville, Fla., had just completed his first Boston Marathon, when he snapped a picture with his iPhone 4S, taken at 2:50, just after the two blasts ripped through the finish line area, killing three people and injuring more than 180 others.
The FBI has not publicly confirmed this photo as Suspect 2, but Green told the Huffington Post that an agent told him, "this is probably the best we have right now."
The man who appears to be Suspect 2 is wearing a white hat with a "3" on the side as seen in the publicly-released photos.
Read more here.
04/18/2013 10:19 PM EDT
Boston Bombing Victim in Iconic Photo Helped Identify Attackers: Bloomberg
Minutes before the bombs blew up in Boston, Jeff Bauman looked into the eyes of the man who tried to kill him.
Just before 3 p.m. on April 15, Bauman was waiting among the crowd for his girlfriend to cross the finish line at the Boston Marathon. A man wearing a cap, sunglasses and a black jacket over a hooded sweatshirt looked at Jeff, 27, and dropped a bag at his feet, his brother, Chris Bauman, said in an interview.
Read more here.
04/18/2013 9:04 PM EDT
Federal Law Enforcement Says Suspects Stayed To Watch Carnage: CNN Reports
Federal law enforcement official says the 2 suspects stayed at scene to watch the #Boston carnage unfold. on.cnn.com/175CKDq

— CNN Breaking News (@cnnbrk) April 19, 2013
04/18/2013 7:26 PM EDT
Right Wing Journalist Goes Ballistic During Press Conference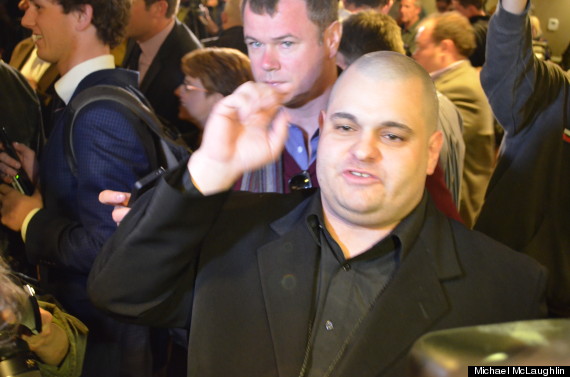 BOSTON -- Moments after the FBI revealed images of two baseball cap-wearing men wanted for questioning about the Boston bombings, the press conference descended into a sideshow.
A journalist from a far-right wing website called Info Wars shouted out a question accusing the government of carrying out the attack that killed three, and maimed or injured 170 others.
FBI Special Agent in Charge Richard Deslauriers ignored the allegation of a government conspiracy from reporter Daniel Bidondi, but the Alex Jones protege did not stop hollering.
"The FBI lies," Bidondi said. "We've got the proof," he said accusing the government of a "false flag" attack in which it staged the blasts and made them appear like the work of terrorists.
Bidondi found himself at the center of an media scrum with cameras and microphones pointed at his face after law enforcement officials left the podium in the Sheraton hotel.
Another reporter ridiculed Bidondi from across the room, telling him to shut up and calling him an asshole.
The excitement quickly dissipated as reporters returned to delivering the news about the official images of the suspects.
Bidondi has been a presence at other press conferences this week related to the bombing investigation.
--Michael McLaughlin / HuffPost Crime
CORRECTION: An earlier version of this story misspelled Bidondi's last name. We regret the error.
04/18/2013 6:46 PM EDT
Facial Recognition Expert Reacts To FBI Photos
Dr. Ralph Gross, a facial recognition expert at Carnegie Mellon University, said the FBI photos of two suspects in the Boston Marathon bombing are likely too grainy to be matched against a driver's license database or Facebook. But he thinks they may be just good enough for someone who knows the individuals to identify them.
"The resolution isn't particularly good. The one that's kind of best is unfortunately a side view -- and in general the face recognition software works best with frontal view," he said.
Research has consistently found, however, that people can spot people they know even in grainy, off-center photographs.
"Humans are actually very good at recognizing people that they are familiar with," Gross said. "Somebody that might know these guys, or might know the way they dress, might certainly be able to recognize them."
The FBI said the men should be considered armed and dangerous, and urged tipsters to call 1-800-CALL-FBI if they believe they have information that could lead to an arrest.
--Matt Sledge
04/18/2013 6:21 PM EDT
Daily News Doctored Photo
The New York Daily News reportedly doctored its front page photograph of the Boston bombings (see update below).
WARNING: LINK GOES TO GRAPHIC PHOTO
04/18/2013 5:37 PM EDT
Hi-Res Image Of People Of Interest

04/18/2013 5:30 PM EDT
FBI Website Down
CNN reports that, because of a flood of traffic, the FBI's site is temporarily down.
SUBSCRIBE AND FOLLOW
Get top stories and blog posts emailed to me each day. Newsletters may offer personalized content or advertisements.
Learn more