Yankees Sweet Caroline Tribute: Red Sox' Song Play In New York (VIDEO)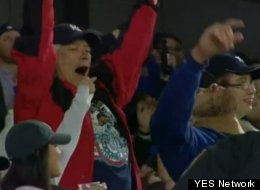 The New York Yankees decided to pay tribute to the city of Boston by bringing a Fenway Park tradition to the Bronx on Tuesday night.
In the aftermath of the deadly Boston Marathon bombings on Monday afternoon, the Yankees chose to play Neil Diamond's "Sweet Caroline" during the third inning of their game against Arizona on Tuesday night.
The Red Sox began playing Diamond's hit song nightly in the eighth inning of home games in 2002, according to Boston.com.
The Yankees also displayed a banner outside of Yankee Stadium to express support for Boston.
Bigger than the game. Thank you! RT @yankees We stand united with the @redsox: twitter.com/Yankees/status…

— Boston Red Sox (@RedSox) April 16, 2013
WATCH VIDEO ABOVE