Several news stations including the Associated Press and CNN previously reported that their sources confirmed that a suspect had been arrested, but now that information is being contradicted. CNN now reports that a federal source may have misunderstood and that other sources are saying there were no arrests made.
Authorities still maintain that they have footage of a man who they believe may have planted the bombs, according to The New York Times. The suspect has not been identified by name.
The Huffington Post's Chris Kirkham was at the U.S. Federal Court House in Boston as it was being evacuated in the afternoon. The evacuation is all clear. He sent the following dispatch at the time:
Federal courthouse scene is one of chaos right now. Have seen lots of people coming out the front door and us marshals are clearing everyone out. They're trying to clear the entire parking lot in front of the courthouse. Hundreds of journalists and spectators are here.
This is a breaking news update. Check back for more updates.
Also on HuffPost:
Boston Marathon Explosion (GRAPHIC PHOTOS)
04/19/2013 2:30 AM EDT
GLOBE: Bombing Suspect In Custody, Another Remains On The Loose
One marathon suspect has been captured, according to an official with knowledge of the investigation.
Another remains on the loose in Watertown after a firefight with police. Authorities have established a 20-block perimeter as they search for him.
Read more here.
04/19/2013 12:44 AM EDT
Unconfirmed Photo Of Suspect 2 In Boston Marathon Bombing Emerges On Facebook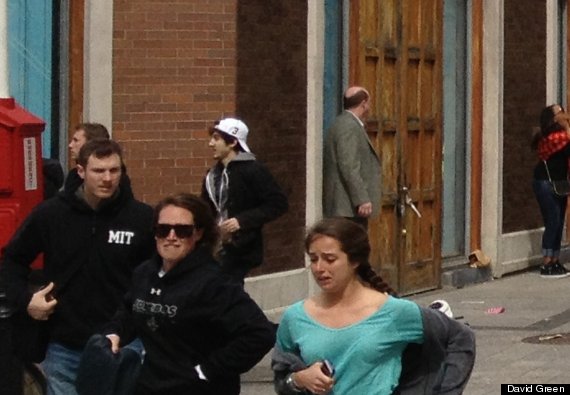 Just hours after the FBI released the first photos of suspects in the Boston Marathon bombing, a new photo of Suspect 2 may have emerged.
David Green, 49, of Jacksonville, Fla., had just completed his first Boston Marathon, when he snapped a picture with his iPhone 4S, taken at 2:50, just after the two blasts ripped through the finish line area, killing three people and injuring more than 180 others.
The FBI has not publicly confirmed this photo as Suspect 2, but Green told the Huffington Post that an agent told him, "this is probably the best we have right now."
The man who appears to be Suspect 2 is wearing a white hat with a "3" on the side as seen in the publicly-released photos.
Read more here.
04/18/2013 10:19 PM EDT
Boston Bombing Victim in Iconic Photo Helped Identify Attackers: Bloomberg
Minutes before the bombs blew up in Boston, Jeff Bauman looked into the eyes of the man who tried to kill him.
Just before 3 p.m. on April 15, Bauman was waiting among the crowd for his girlfriend to cross the finish line at the Boston Marathon. A man wearing a cap, sunglasses and a black jacket over a hooded sweatshirt looked at Jeff, 27, and dropped a bag at his feet, his brother, Chris Bauman, said in an interview.
Read more here.
04/18/2013 9:04 PM EDT
Federal Law Enforcement Says Suspects Stayed To Watch Carnage: CNN Reports
Federal law enforcement official says the 2 suspects stayed at scene to watch the #Boston carnage unfold. on.cnn.com/175CKDq

— CNN Breaking News (@cnnbrk) April 19, 2013
04/18/2013 7:26 PM EDT
Right Wing Journalist Goes Ballistic During Press Conference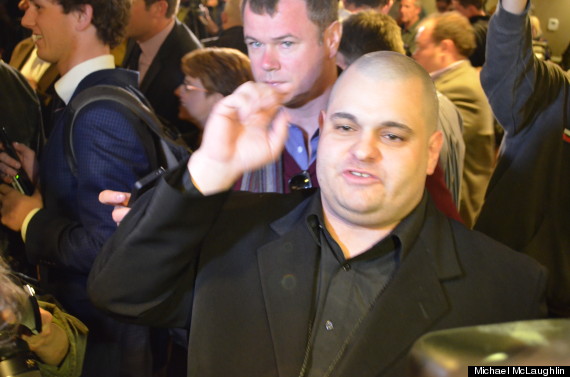 BOSTON -- Moments after the FBI revealed images of two baseball cap-wearing men wanted for questioning about the Boston bombings, the press conference descended into a sideshow.
A journalist from a far-right wing website called Info Wars shouted out a question accusing the government of carrying out the attack that killed three, and maimed or injured 170 others.
FBI Special Agent in Charge Richard Deslauriers ignored the allegation of a government conspiracy from reporter Daniel Bidondi, but the Alex Jones protege did not stop hollering.
"The FBI lies," Bidondi said. "We've got the proof," he said accusing the government of a "false flag" attack in which it staged the blasts and made them appear like the work of terrorists.
Bidondi found himself at the center of an media scrum with cameras and microphones pointed at his face after law enforcement officials left the podium in the Sheraton hotel.
Another reporter ridiculed Bidondi from across the room, telling him to shut up and calling him an asshole.
The excitement quickly dissipated as reporters returned to delivering the news about the official images of the suspects.
Bidondi has been a presence at other press conferences this week related to the bombing investigation.
--Michael McLaughlin / HuffPost Crime
CORRECTION: An earlier version of this story misspelled Bidondi's last name. We regret the error.
04/18/2013 6:46 PM EDT
Facial Recognition Expert Reacts To FBI Photos
Dr. Ralph Gross, a facial recognition expert at Carnegie Mellon University, said the FBI photos of two suspects in the Boston Marathon bombing are likely too grainy to be matched against a driver's license database or Facebook. But he thinks they may be just good enough for someone who knows the individuals to identify them.
"The resolution isn't particularly good. The one that's kind of best is unfortunately a side view -- and in general the face recognition software works best with frontal view," he said.
Research has consistently found, however, that people can spot people they know even in grainy, off-center photographs.
"Humans are actually very good at recognizing people that they are familiar with," Gross said. "Somebody that might know these guys, or might know the way they dress, might certainly be able to recognize them."
The FBI said the men should be considered armed and dangerous, and urged tipsters to call 1-800-CALL-FBI if they believe they have information that could lead to an arrest.
--Matt Sledge
04/18/2013 6:21 PM EDT
Daily News Doctored Photo
The New York Daily News reportedly doctored its front page photograph of the Boston bombings (see update below).
WARNING: LINK GOES TO GRAPHIC PHOTO
04/18/2013 5:37 PM EDT
Hi-Res Image Of People Of Interest

04/18/2013 5:30 PM EDT
FBI Website Down
CNN reports that, because of a flood of traffic, the FBI's site is temporarily down.
SUBSCRIBE AND FOLLOW
Get top stories and blog posts emailed to me each day. Newsletters may offer personalized content or advertisements.
Learn more