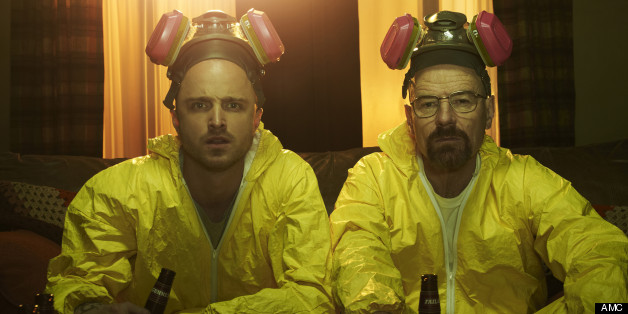 "Breaking Bad" returns with its final eight episodes on Sunday, August 11 at 9 p.m. ET.
AMC announced that the remainder of Season 5 will be paired with a talk show a la "The Walking Dead's" "Talking Dead," this one titled "Talking Bad."
"Six years ago at AMC, we set a goal to create premium television on basic cable and we began to develop and nurture shows that would set us apart," Charlie Collier, president and general manager of AMC, said in a statement. "As we lay out the year ahead for advertisers at our 2013/14 Upfront, it is an honor to have such a breadth of development and programming to share and to be in business with such a high caliber of talent in front of and behind the camera."
"Talking Bad" will be a half-hour program, airing at 11 p.m. ET after AMC's new drama "Low Winter Sun." The series, which is based on the British miniseries of the same name, stars Mark Strong and Lennie James and kicks off with the murder of a Detroit cop by a fellow detective.
AMC previously announced "The Killing" will return on Sunday, June 2 at 8 p.m. ET and "Hell On Wheels" premieres Saturday, August 3 at 9 p.m. ET. The network has also renewed "Talking Dead," "Comic Book Men" and "Freakshow."
Are you excited for "Breaking Bad's" return? Sound off in the comments!
SUBSCRIBE TO & FOLLOW ENTERTAINMENT
All the fan theories and spoilers you actually WANT. Learn more