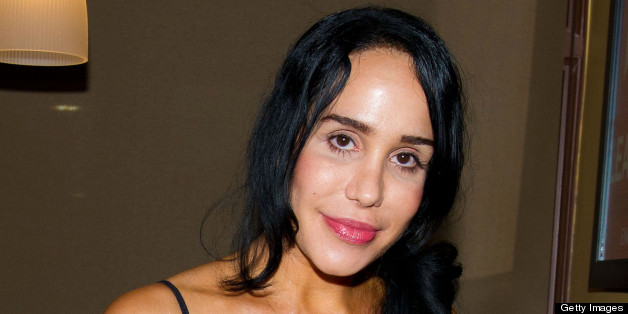 There's no doubt that raising 14 children has to be expensive, but newly uncovered financial documents show that Nadya Suleman, aka Octomom, was earning far too much money to be receiving welfare.
Last month, the Los Angeles County Department of Welfare Fraud Prevention and Investigation began looking into claims that the 37-year-old was committing welfare fraud, and now RadarOnline reports that WFP&I has uncovered evidence that may support that claim.
As previously reported, under California law Suleman (and her 14 dependents) qualifies for welfare if she makes less than $119,000 in a calendar year, but financial records from her former employers -- including Wicked Pictures, the adult entertainment company that produced her porn video -- show that she took in at least $150,248.77 in 2012.
According to the 1099 documents given to the WFP&I, in 2012 Suleman made nearly $33,300 off her porn video, and also received close to $58,700 from a company called DD Entertainment LLC. The single mother also netted $57,500 from another company, and was paid $813 to appear on the short-lived CW series "H8R."
Suleman reportedly collected more than $60,000 in welfare benefits, including food stamps, in 2012, a source familiar with the investigation told RadarOnline.
The investigation is reportedly still ongoing, but if the WFP&I determines Suleman indeed committed fraud, she could be facing more than three years in prison, according to earlier reports from TMZ.
If Suleman's income actually exceeded $150,000, she seems to have spent it all. RadarOnline also reported that she was just presented with an eviction notice for not paying her $2,590 rent bill for the month of April.
A source close to her landlord told the website that after receiving the eviction notice, Octomom packed up her things from the Palmdale, Calif. home and fled in the middle of the night, leaving the house in "filth and smelling like urine," adding that there were "beer bottles in the garage and trash littered all throughout the house."