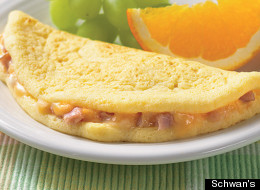 We'd like to start this by telling you that we hate neither frozen foods nor convenience. We swear by frozen potato shreds for hash browns, believe heartily in frozen spinach's many uses in the kitchen, we even love to eat a Toaster Strudel every now and then. With that said, the truth is that there are some foods which needed never to be introduced to the freezer.
What constitutes stupid frozen food? When the amount of actual labor you'd need to put forth to cook the food yourself hovers near the amount of time it takes to thaw/prepare one of these ridiculous convenience foods from frozen. Frozen puff pastry makes sense because puff pastry is finicky and time consuming. Frozen chopped onions do not make sense. There are also certain foods that we just can't imagine being any good when frozen and reheated. Frozen scrambled eggs? Frozen whole sandwiches? We're sorry to tell you, it's about to get a lot worse.
Want to read more from HuffPost Taste? Follow us on Twitter, Facebook, Pinterest and Tumblr.
Don't get us wrong, frozen waffles are great. There is such a huge, underestimated difference between how great frozen waffles are and how horrible frozen pancakes are.

What, exactly, makes this deluxe ham & cheese omelet deluxe? Because it looks like you melted some cheese between two sponges.

Seriously? Seriously. Tell us how good frozen scrambled eggs can really be. TELL US.

Frozen oatmeal. We just don't even know anymore.

Charcuterie, the process of curing meats for preservational purposes, was invented long before the freezer. For a reason. Summer sausage lasts SUCH a long time. Why do we need to freeze it?

Every Jewish grandmother we have ever known has just groaned. How good can frozen matzoh ball soup really taste?

Wait, REALLY? By taking these frozen quesadillas out of the freezer and cooking them, you have accomplished nearly as much work as it takes to just make a quesadilla. People of earth, we are begging you -- just make a quesadilla!

But WHY? Frozen corn, sure. But frozen corn on the cob? We don't understand.

First of all: you still have to mix these with milk and butter! Secondly, here's how Schwan's describes these frozen mashed potatoes: "Unique portioned potato nuggets let you make one or 5 servings." No.

We understand the concept behind frozen vegetables. We love to have eat peas all year long. Frozen spinach is one of our best kitchen friends. But onions are available all year long, and last a really long time outside the freezer. What is the meaning of this?

We don't really know how else to put this: this is toast. By slicing bread, applying butter, putting in the oven, you've made toast. To make Texas toast, cut extra thick, apply extra butter. Toast.

We believe that grilled cheese is a nearly perfect food. It's also one of the easiest, quickest foods you can make. WHY DO WE NEED FROZEN GRILLED CHEESE?

Like the grilled cheese that came before it, this frozen panini is a sandwich, people. How good can this possibly taste from the freezer?

Is this the ultimate slap in the face? It's a peanut butter and jelly sandwich, everyone. Three ingredients: bread, peanut butter, jelly. What precious task are you all devoting your lost PB&J-preparing minutes to when you buy these?

Look. Donuts are meant to be fried, not *shudder* microwaved.

No, guys. NO. No.