Anti-Anorexia Ads Stun With Tagline 'You Are Not A Sketch' (PHOTOS)
When it comes eating disorders in fashion, designers, models and editors can host all the panels and write up all the guidelines they want. But sometimes a powerful image is the most effective way to drive the point home.
Star Models, a modeling agency based in Brazil, released new ads that use just two images each: a picture of a model in a fashion design sketch and a picture of a "real" model. Each sketched model is drawn with the exaggerated proportions and long lines typical of fashion illustration. The "real" models to their right are depicted with the exact same proportions.
The staggering visual affect is underscored by the tagline, "You are not a sketch. Say no to anorexia." And while the models have been airbrushed to mimic the unrealistic sketches, it's scary how closely they resemble actual runway models seen every season at Fashion Week.
As widespread as the problem of underweight models is, graphic anti-anorexia ad campaigns like this one have effectively raised awareness. Most famous was a 2007 ad for Italian fashion brand Nolita starring model Isabelle Caro, who was openly suffering from anorexia at the time. Her skeletal image, with vertebrae and facial bones protruding, shocked viewers and drew worldwide attention. She passed away three years later at age 28. (You can see the graphic ads here.)
These new ads from Star Models are less graphic, but perhaps equally effective. Check them out below and tell us what you think -- and click here to see more powerful anti-anorexia ad campaigns.
PHOTOS: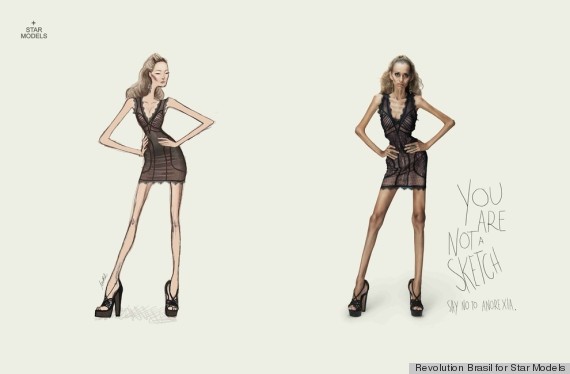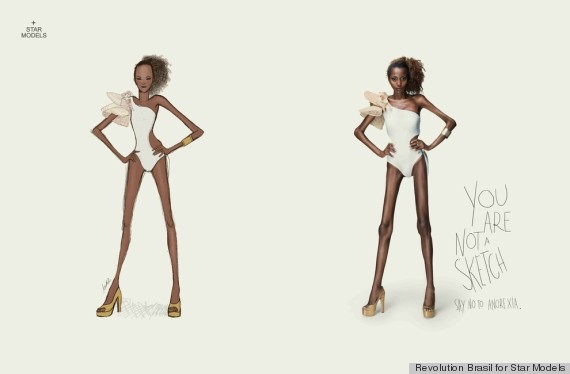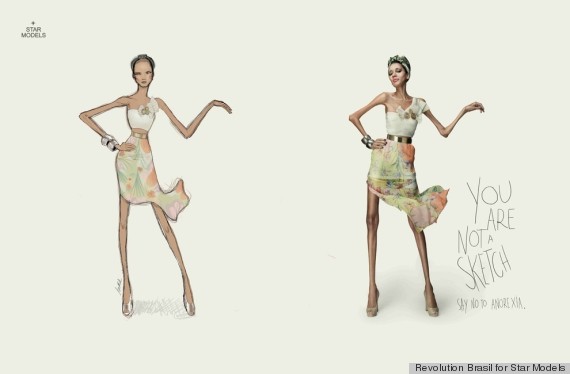 These ads stirred up controversy:
100 Ads That Got People Talking
Levis.

Saatchi and Saatchi's campaign for The Conservative Party ahead of the 1979 general election.

Durex.

Sisley fashion brand.

Sean John's Unforgivable Woman fragrance.

Linford Christie stars in Kleenex's tissue advert.

Lynx.

BMW.

BaF's anti-domestic violence ad.

Red Tape menswear fashion brand.

Controversial French anti-smoking advert,

MacDonald's.

QSOL service provider.

NSPCC

A German MacDonald's advert.

Heinz.

Cadbury's.

Miquita Oliver in Women's Aid advert.

Advert for Chicolate chocolate substitute.

Skin Burn, anti-smoking ad

Barnardo's.

Tipalet cigarette advert.

Benetton

TG4 television program entitled 'Paisean Faisean'.

Courage beer.

Budweiser.

Barcardi rum.

Amnesty International

Skyy alcoholic drink.

Amnesty International

Amnesty International

Anti binge-drinking advert

Van Heusen

BMW

Pitney-Bowes Postage Meter

Government anti-drug driving advert

Anti-abortion advert

Advert against verbal abuse

Fabrica

Benson & Hedges

American Apparel

Amnesty International

Post-It

An M&C Saatchi advert for St Matthew's in the City in Aukland, New Zealand.

Israel is still angry that the supermodel didn't serve in the army, and they are even more angry that she is in a tourism video for the country.

Wonderbra's infamous advert.
Want more? Be sure to check out HuffPost Style on Twitter, Facebook, Tumblr, Pinterest and Instagram at @HuffPostStyle.
--
Do you have a style story idea or tip? Email us at stylesubmissions@huffingtonpost.com. (PR pitches sent to this address will be ignored.)