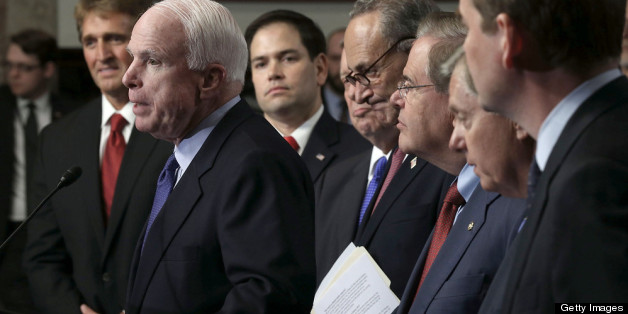 WASHINGTON -- Senators of the "gang of eight" pushing for immigration reform promised on Thursday to fight to ensure their bill doesn't get caught in congressional gridlock, with some alluding to the gun control measures that went down Wednesday because they could not get to 60 votes.
"Powerful outside forces have helped defeat certain other issues in Washington. But on immigration, the opposite is proving true," Sen. Chuck Schumer (D-N.Y.) said at a press conference. "I am convinced this issue will not fall victim to the usual partisan gridlock. ... In a week when disillusionment in politics is being acutely felt, this bipartisan breakthrough offers real hope."
"I don't think that it's at all like gun control, frankly," he said later.
The gang of eight immigration reform bill would strengthen border protections, increase interior enforcement, change the visa system and allow undocumented immigrants to eventually become legal residents and then citizens. The four Republicans -- Sens. John McCain (R-Ariz.), Lindsey Graham (R-S.C.), Marco Rubio (R-Fla.) and Jeff Flake (R-Ariz.) -- and four Democrats -- Schumer and Sens. Dick Durbin (D-Ill.), Bob Menendez (D-N.J.) and Michael Bennet (D-Colo.) -- introduced their 844-page bill on the Senate floor early Wednesday morning.
Later the same day, they participated in a series of votes on gun control that frustrated onlookers, their colleagues and President Barack Obama. Congress' approval ratings are low, and immigration reform, like gun control, is a tough haul politically, despite support from many voters. The senators said they're well aware of those facts, but think it can work.
"Our fellow citizens: We know Congress is broken," Graham said. "This is an effort ... to prove to you and the rest of the members of the Senate and the members of the House that it doesn't have to stay broken."
At the Thursday press conference, the senators were flanked by a number of immigration reform advocates: some Republicans, some Democrats. Anti-tax advocate Grover Norquist walked in with AFL-CIO President Richard Trumka, and Southern Baptist leader Richard Land stood nearby. "I never thought I'd be standing with Richard Trumka, but let me say, I want to thank you," McCain joked.
The gang of eight members said the key to their bill will be the advocates who can help them push for success. They also emphasized that none of them are 100 percent happy with the bill and don't expect others to be, either, but think it's a good start and will fight down amendments meant to kill it.
Rubio took the job of speaking to conservative critics, addressing small government conservatives directly to argue that doing nothing would be worse than their bill, even if it includes a path to citizenship. "We all wish we didn't have this problem, but we do," he said of illegal immigration.
Graham went harder on critics on the right, particularly those who say increasing immigration will hurt the economy and jobs. "To those who say we don't need legal immigration, you're crazy," he said. Schumer later pledged to ensure the bill is deficit neutral and said they aim to make it bring a budget surplus, rather than costing government money.
McCain said one thing that may help Republicans is political necessity: although he said he doesn't expect immigration reform to win Latinos in and of itself, it will allow the GOP the opportunity to at least pitch its message. More than that, it's simply necessary, he said.
"The status quo is not acceptable," he said. "And if you believe that, then you are willing to make compromises that may not take your exact plan for immigration reform."
ALSO ON HUFFPOST:
PHOTO GALLERIES
Bipartisan Immigration Plan's Key Provisions