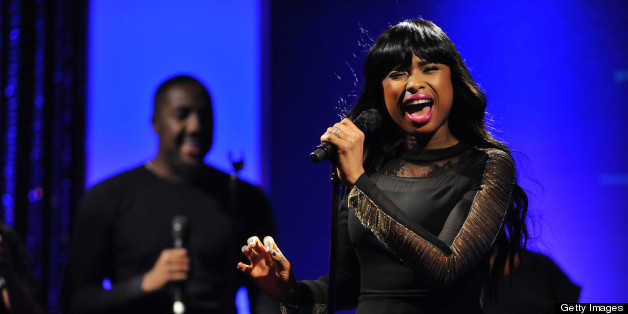 WASHINGTON -- Music's biggest night came to Washington Wednesday at the annual Grammys on the Hill Awards, which honored Jennifer Hudson with the Recording Artist Coalition Award for her philanthropic and artistic achievements.
Hudson, a frequent visitor to the Obama White House who most recently performed Al Green's "Let's Stay Together" for President and Michelle Obama's first dance at an inaugural ball in January, said it was "so cool" being backstage with the Obamas and that the president requested her as a performer.
Of course the Boston bombing was on everyone's mind, and the show opened with a memorial message to the victims. Hudson sent her prayers to Boston too, saying, "When I saw the news, it just stopped me in my tracks. It's just heartbreaking."
Some of music's biggest names were in Washington at The Hamilton to fête Hudson. Songwriters Victoria Shaw (John Michael Montgomery's "I Love the Way You Love Me"), Angela Hunte (Jay-Z and Alicia Keys' "Empire State of Mind") and "American Idol" judge Kara DioGuardi (Pink's "Sober") each performed one of their own hits along with a classic from the Great American Songbook, and cellist Zoë Keating moved the audience with her rendition of the National Anthem.
Attending his first Grammys on the Hill, legendary music producer Clive Davis honored his "dear friend" Hudson as a multifaceted talent: "Yes, she's won an Oscar and a Golden Globe... and yes, she's won a Grammy... but that hardly tells the whole story."
But at the end of the night, all eyes were on Academy and Grammy Award-winner Hudson, who wowed the crowed with an acoustic performance of Leonard Cohen's "Hallelujah" and "One Night Only" from Dreamgirls, the role for which she won an Academy Award in 2007.
Recognizing that proceeds from Grammys on the Hill benefit the Grammy Signature Schools Program, which fights to keep music education in schools, Hudson noted the importance of her own childhood music teachers, admitting, "That why I had perfect attendance in school -- because I could not miss music class. I didn't really care about any other class -- even on my lunch break, I would go to music."
And because it's Washington, D.C. -- because where else would this happen? -- more than a dozen members of Congress ended up on stage by the end of the night, joining the songwriters for a rousing rendition of The Ronettes' "Be My Baby."
Past recipients of the Recording Artist Coalition Award have included Garth Brooks, John Mayer and Don Henley.
SUBSCRIBE AND FOLLOW
Get top stories and blog posts emailed to me each day. Newsletters may offer personalized content or advertisements.
Learn more