Once upon a time in 1970, the young conceptual artist John Baldessari suggested an unusual and disturbing idea for an art project. He wanted to display a human cadaver behind a peep-hole, presenting the dead body to visitors in a manner reminiscent of Andrea Mantegna's classic painting, "The Lamentation over the Dead Christ." However, the strict legal framework protecting human remains prevented Baldessari from realizing his morbid art dreams and the idea, well, died.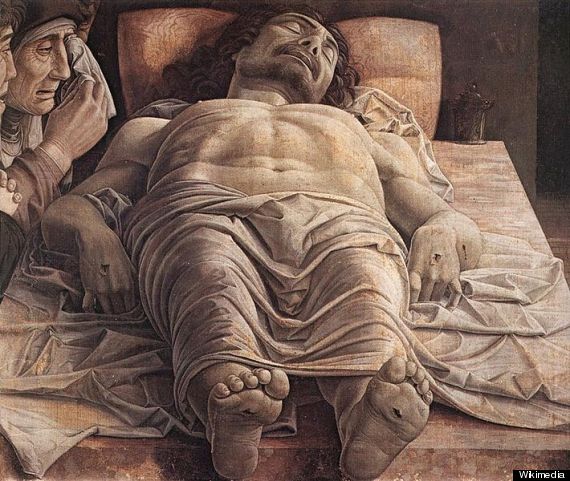 The Lamentation over the Dead Christ by Andrea Mantegna (c.1490) Tempera on canvas, 68 x 81 cm Pinacoteca di Brera, Milan.
Until 2011, that is, when Hans Ulrich Obrist, the co-director of London's Serpentine Gallery, and Klaus Biesenbach, the director of MoMA PS1, tried and failed to resurrect the concept. According to The Art Newspaper, the duo attempted to conquer the legal setbacks Baldessari experienced four decades earlier to revive the cadaver project, but their efforts were futile. Instead, Obrist and Biesenback ended up displaying all the messy paperwork they encountered in a exhibition at the Manchester International Festival titled "11 Rooms."
The show displayed the immense amount of correspondence documenting the second attempt at obtaining a body, sufficiently blurring the lines between art and death; "11 Rooms" has since travelled to various locations and grown in size, shifting its focus from the "Unrealized Proposal for Cadavre Piece" to a newer concept titled "Thirteen Colorful Inside Jobs." However, that doesn't mean Obrist has lost hope for resuscitating Baldessari's original idea.
"It's not excluded that one day it will happen," Obrist told The Art Newspaper in Sydney this week. "You need the consent of the person obviously before they die. At the same time you need the consent of the family as well as legal authorisation."
"13 Rooms," as the exhibition is now called now, is currently on view at Sydney Harbour courtesy of Kaldor Public Art Projects, showcasing works by Marina Abramovic, Joan Jonas, Damien Hirst, Tino Sehgal, and more. Let us now what you think of Olbrist, Biesenbach and Baldessari's odd cadaver fascination in the comments. Would Andres Serrano photograph the series?
Will.I.Am Hung Out At The Louvre To Record A Song About The Mona Lisa: Oh, the things celebrities get away with sometimes. The Black Eyed Peas member and current star of "The Voice" was allowed into Paris's iconic museum to record his song, "Smile Mona Lisa." Wait, so he didn't even shoot a music video? (The Telegraph)
Picasso Heads To The Met: Picasso's 1913 painting "Woman in an Armchair (Eva)" is now on view at the Metropolitan Museum of Art, thanks to Leonard Lauder's generous billion dollar gift. Huzzah! (Art Daily)
Gallery Offers Marijuana In Exchange For Art Donations?: Denver police busted a gallery for running a certifiably shady operation involving the exchange of weed for donations. LOL, Colorado. (CBS)
MOCA Endowment Hits $75 Million: Things are looking up for MOCA, it seems. "There is a new energy and excitement about MOCA's future and its leadership role in the art world," said Eugenio Lopez, an endowment campaign co-chair. (LA Times)
Want A Watch Adorned With Degas Sketches?: Your wish is Vacheron Constantin's command. (ARTINFO)
11 Shocking Acts by Artists
Italian artist Piero Manzoni created an unexpected work of art called "Artist's Shit" in 1961. How'd he do it? The brazen soul filled 90 cans with feces and sold them for auction at Sotheby's. Rumors circulated that Manzoni had not actually filled the cans with human feces, a rumor which was quickly quelled when one of the cans began leaking in a Denmark museum.

A slideshow of shocking artists wouldn't be complete without including at least one of Marina Abramovic's many startling and sometimes dangerous performance art pieces. In "Rhythm 10," the artist played a Russian game that involved rapidly jabbing knives between her outstretched fingers, switching between large and small blades when she accidentally sliced herself. She recorded her first run and then tried to mimic its exact movements in a second trial, even copying the sounds she made when she nicked her hand. Painful to watch, though we imagine by the size of the blades that "nicked" might have been an understatement.

British artist Amanda Feiding (who is now married and goes by the name of Charteris) once performed a trepanation on herself as part of a short art film entitled "Heartbeat in the Brain." What's a trepanation? It's a procedure that involves drilling a hole into someone's skull. The skull boring continues. NYU professor Wafaa Bilal implanted a camera into the back of his head as part of a surveillance art project called "The 3rd I." The extreme body modification eventually came to an end when his body physically rejected one of the titanium posts used to keep the device in place on his skull.

Chris Burden probably deserves several slides, as he's shot at a 747 airplane, taken a bullet to the arm and been nailed to a volkswagen all in the name of art. Here is Burden's infamous "Shoot" from 1971, when he allowed an assistant to shoot him from a distance of 5 meters.

Voina, the guerilla art group that graffitied a St. Petersburg bridge with a giant penis, once threw live cats at a McDonalds as part of a subversive performance that celebrated International Workers' Day. You can see a photo of the cats mid-air and likely terrified here. But the throwing of cats is not as bad as Tom Otterness' decision to shoot an adopted dog in 1977, an act he later regretted. Come on guys, let's the leave the animals out of it. Photo: Members of Voina courtesy of Getty Images.

Marni Kotak stated that giving birth was the "highest form of art." And she wanted to make that art public. So she decided to give birth in a gallery in a performance called "The Birth of Baby X." We just hope that she didn't get too caught up in the performance and forget to pick a better name for her offspring.

In "Eating People," Zhu Yu claimed to be cooking and eating a human fetus that he stole from a medical school. And later performances by the Chinese artist involved grafting his own skin onto a pig. All in all, Zhu Yu's entire body of work is pretty shocking.

Andres Serrano is the king of using bodily fluids to create art. He's sacrificed his own blood, urine and semen to make works like his super-controversial photograph of a crucifix submerged in urine titled "Piss Christ." Talk about blood, sweat and tears going into your work.

Like Andres Serrano, Franko B was not afraid to shed some blood for his art. He was interested in the ritualization of his own body, so in 2002 he turned the Tate modern into a catwalk and strutted down the aisle while bloodletting in front of an audience.

This Bronx-born and Brooklyn-based artist got very, very comfortable at Sonnabend Gallery in 1971. For his "Seedbed" performance, he masturbated in a hidden compartment underneath the gallery and vocalized his sexual fantasies over a loudspeaker that gallery goers could hear. Like most of these shocking exhibits, we're just glad we we were not there to witness it.

Lady Jaye Breyer and Genesis P-Orridge underwent a series of surgical procedures in order to look like each other, hoping to achieve a third being called Breyer P-Orridge. Their gender bending experiment was called pandrogyny and spurred several mixed-media exhibitions including "Painful But Fabulous."

Equipped with animal carcases and spiritual iconography, Viennese "actionist" Hermann Nitsch organized bloody performances that played out like pagan rituals. For 30 years, he and his 'Orgiastic Mystery Theater' troupe carried out shocking art performances just like these. Enough said. We think this trumps nude breast painting.