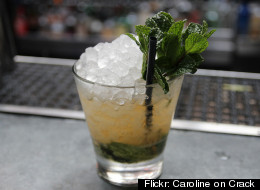 The mint julep, like many other Southern foods and drinks, is uniquely American. While the origin story of the cocktail is highly contested, we know two things for sure: it was invented in the American South, and it tastes really good on a hot day.
The mint julep recipe is pretty simple -- although it looks like it, this isn't a frilly cocktail. The simple combination of mint, a hint of sugar, bourbon and ice is most delicious, and definitely most authentic, when served in a frosty pewter cup. If you want to make great mint juleps, get yourself some pewter cups. The mint julep has been the official cocktail of the Kentucky Derby since 1938. We, however, think this iconic American cocktail deserves attention on the other 364 days of the year as well, so we pulled together some of our favorite mint julep variations for you today.
Want to read more from HuffPost Taste? Follow us on Twitter, Facebook, Pinterest and Tumblr.
Classic Mint Julep

Two Tarts

Citrus Mint Julep

My Life As A Mrs

Blueberry Mint Juleps

How Sweet It Is

Strawberry-Infused Mint Julep

Cookie + Kate

Cherry Mint Julep Slushies

How Sweet It Is

Sparkling Peach Mint Julep

Ruffled

Kentucky Colonel Mint Julep

thirschfeld/Food52

Sweet Tea Julep

The Runaway Spoon

Ginger Julep

There Will Be Bourbon