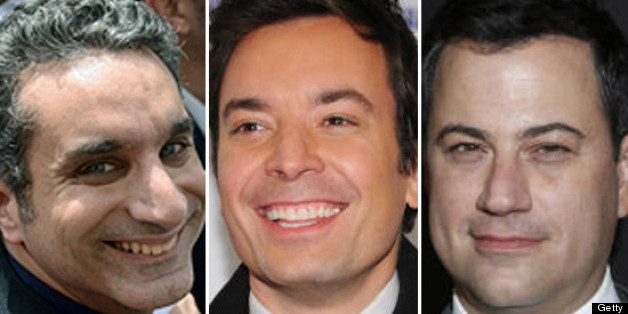 Late night talk show hosts Jimmy Fallon and Jimmy Kimmel have made the 2013 TIME 100 Most Influential People in the World list. Also making the list is Bassem Youssef, the political comedian often referred to as "Egypt's Jon Stewart."
None of the men have previously appeared on the list, which enters its tenth year.
This year, Fallon and Kimmel have positioned themselves to be the next generation of late night talk show hosts. Last month, NBC announced that Fallon will take over "The Tonight Show" from Jay Leno in early 2014. Kimmel, who has been hosting "Jimmy Kimmel Live!" since 2003, recently moved to 11:35, and will be Fallon's direct competition.
Frequent Fallon collaborator Justin Timberlake wrote an essay for TIME describing his admiration for Fallon's comedic chops. He described his own wedding reception, in which Fallon interrupted Timberlake's speech: "[T]hen there was Jimmy, shouting a joke from his seat, sparking an improv between the two of us that went on for a good five or 10 minutes and had all our guests roaring with laughter."
Kimmel's first major TV role was as the sidekick on Comedy Central's "Win Ben Stein's Money," and Stein praised Kimmel's talent and loyalty to TIME. "After two weeks on the air, I told him he would have Letterman's job someday," Stein recounted.
Also recognized by TIME is Youssef, an Egyptian comedian who hosts "El Bernameg" (in English, "The Program"). His show is often compared to "The Daily Show" for its political satire, and after rising to wild popularity in Egypt, he achieved international fame when President Mohammed Morsi's government issued an arrest warrant for Youssef for maligning Morsi and Islam on the air. Stewart devoted a segment of "The Daily Show" to affirm his solidarity with his fellow satirist.
Stewart, a TIME 100 alum himself, penned the tribute to Youssef. He expressed admiration for the sheer bravery that Youssef displays on his show, speaking out against a government that does not hesitate to silence its citizens. "The only real difference between him and me is that he performs his satire in a country still testing the limits of its hard-earned freedom, where those who speak out against the powerful still have much to fear," he said in part. He ended the tribute by proclaiming Youssef to be his "hero."
Other comedy favorites named this year were Lena Dunham, Mindy Kaling and Justin Timberlake. Last year, TIME named Louis C.K., Kristen Wiig, Stephen Colbert and Chelsea Handler in the TIME 100.
ALSO ON HUFFPOST:
PHOTO GALLERIES
Late Night Hosts Before The Fame