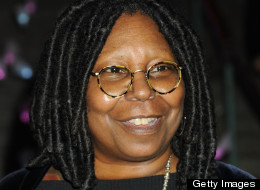 "Hollywood Unplugged," a new series on HuffPost Entertainment, shows our culture's most influential figures in a new light. Instead of focusing on their accomplishments, it examines how they continue to thrive despite the inevitable stress.
Whoopi Goldberg never seems to rest. The 57-year-old Academy Award-winner has done it all: small screen, big screen, Broadway. Now, at this year's Tribeca Film Festival, Goldberg takes on a new role -- that of director. In the documentary "I Got Somethin' To Tell You," Goldberg tells the story of her role model, pioneering black comic Moms Mabley. HuffPost Entertainment caught up with Goldberg at the Vanity Fair Tribeca Film Festival Party.
HuffPost Entertainment: How do you de-stress, what calms you down?
Whoopi Goldberg: I can't even tell you, because it's illegal. [Laughs.] What calms me down? A good movie will calm me down. "Game of Thrones" calms me down. Roll something? I don't know.
Where do you go for a change of scenery?
I go to my backyard.
What is your guiltiest pleasure?
Not telling.
Is there a person you look up to for inspiration?
Well, my mom was that person. And I still look up. [Looks up at the sky.]
Can you share an inspirational quote?
"Fuck 'em if they can't take a joke"?
"I Got Somethin' to Tell You" premieres at the Tribeca Film Festival on April 20.
Tribeca Film Festival 2013
Indie rock outfit The National helps open the 2013 Tribeca Film Festival with "Mistaken For Strangers," a new documentary that focuses on the band. Tom Berninger, brother of lead singer Matt, directs. The National will also play a special concert for Tribeca attendees after the April 19 debut.

Kevin Connolly ("Entourage") directs a documentary about former New York Islanders owner John Spano and how he was able to perform "the biggest fraud in hockey history." An ESPN Film.

To celebrate the film's 30th anniversary, the 2013 Tribeca Film Festival will screen a restoration of Martin Scorsese's "The King of Comedy" as its closing night film. Robert De Niro and Jerry Lewis star.

"Austin Powers" director Jay Roach sits down with Ben Stiller on April 21.

Clint Eastwood and Darren Aronofsky will chat on April 27 following the premiere of "Eastwood Directs: The Untold Story," a new doc about the iconic filmmaker.

Emma Roberts and John Cusack star in this coming-of-age film about a young 20-something woman who works at a local sex shop and dreams of becoming a poet.

Paul Rudd and Paul Giamatti star in this seasonally inappropriate comedy about two conmen selling Christmas trees. Phil Morrison, who last made the well-received 2005 indie "Junebug," directs for the first time in eight years.

Ethan Hawke and Julie Delpy star in the festival favorite "Before Midnight," which screens at the Tribeca Film Festival one month before it opens in limited release (on May 24).

A documentary about Chris "Wonder" Schoeck, a Coney Island strongman.

Called "'Sideways' meets 'Stand By Me'" in the Tribeca Film Festival media guide, this indie comedy is of note because it was co-written by Luke Matheny, who won an Oscar for Best Live-Action Short at the 2011 Oscars. Ben Kingsley, James LeGros, Kodi Smit-McPhee and Alex Wolff star.

Starring John Slattery, Amy Morton, Louisa Krause, Margo Martindale and Adam Driver (of "Girls") fame, "Bluebird is a drama about what happens to a small town after a terrible tragedy.

Melissa Leo and Josh Hamilton star in this drama about family and addiction.

"Designing Women" creator Linda Bloodworth Thomason directs this documentary about same-sex marriage, and what happens to one committed couple when tragedy strikes and spousal benefits are denied.

Neil Jordan's drama-horror feature about two vampire sisters (played by Gemma Arterton and Saoirse Ronan).

A romcom about quirky love in New York City with a great cast: Justin Long, Evan Rachel Wood, Sam Rockwell, Peter Dinklage, Busy Philipps, Brendan Fraser, Sienna Miller and Vince Vaughn. Long co-wrote the script.

A star-crossed romance about two kids from opposite sides of the tracks (Shiloh Fernandez and Haley Bennett) and a drug run gone bad.

Produced by James Franco, this documentary looks at the House of Gucci under Frida Giannini.

"30 Rock" fans, take note: comedy legend Elaine Stritch stars in her very own documentary.

Julianne Moore stars as a teacher who gets inspired when one of her favorite returns to her school.

A documentary about Flex, a "competitive dance form of dramatic contortions, simulated violence, seamlessly flowing footsteps and the occasional humorous touch."

Directed by Darren Stein ("Jawbreaker"), "G.B.F." focuses on three high school mean girls competing to nab a g.b.f. (gay best friend).

Josh Fox follows his 2010 documentary about fracking with this new film.

Penn Badgley stars as Jeff Buckley in "Greetings From Tim Buckley," which focuses on what happens when the young singer is asked to perform at a memorial service for his late father.

From IMDb: "Ten easy steps show you how to make money from drugs, featuring a series of interviews with drug dealers, prison employees, and lobbyists arguing for tougher drug laws."

Whoopi Goldberg directs this documentary about comedy icon Moms Mabley.

An inside look at the Bernie Madoff scandal which focuses on Madoff's long-time secretary.

A documentary about Lenny Cooke, a former high school basketball prodigy who was ranked ahead of players like Lebron James and A'mare Stoudemire.

The famed internet cat hits the big screen.

Acclaimed director Michael Haneke is star of this new documentary on his life's work.

A photojournalist tries to deal with the disappearance of her lover. Jennifer Jason Leigh, Alia Shawkat and Martin Henderson star.

Zoe Kazan and Jake Johnson star in this indie love story about twin sisters, tragedy, unrequited love and self-identity.

David Gordon Green directs Paul Rudd and Emile Hirsch in this shaggy dog comedy which debuted at the 2013 Sundance Film Festival

"Death Proof" star Zoe Bell leads "Raze," a B-movie actioner about women who are abducted and forced to literally fight for their survival.

Sam Rockwell and William H. Macy star in this pulpy thriller.

Famed playwright Neil LaBute directs this drama about two people (Alice Eve and Stanley Tucci) reunited after four years.

Laurie Collyer ("Sherrybaby") directs this drama, featuring stars Naomi Watts and Matt Dillon.

A documentary about the origins of the concept of teenagers, with narration provided by Jena Malone, Ben Whishaw and Jessie Usher. Jason Schwartzman is one of the film's producers.

"Avengers" star Clark Gregg wrote and directed this black comedy about a struggling agent. Gregg, Amanda Peet, Sam Rockwell, William H. Macy, Allison Janney and more co-star.
CORRECTION: In a previous version of this text, Moms Mabley's name was misspelled. The text has been corrected.