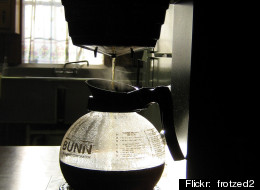 If you're one of those people who only makes coffee in their coffee maker, you're missing out on the full potential of this appliance. That coffee pot sitting on your kitchen counter can make you breakfast, lunch, dinner AND dessert -- as well as a decent cup of coffee.
We know what you're thinking, why in the world would you want to poach fish steaks (yes, this is possible) and make coffee in the same vessel? Truth is, you probably wouldn't want too if you had easy access to a normal kitchen. But for those people who live in small closets that are being rented as studios, students living in dorms or frequent hotel visitors, this will change your life.
Also, if you just want to be equipped with MacGyver-like skills in case of an unforeseeable emergency, you should read on. And just as MacGyver would do, cook at your own risk.
Want to read more from HuffPost Taste? Follow us on Twitter, Facebook, Pinterest and Tumblr.
It's almost easier to make than a pot of coffee. Recipe from the examiner.com: Put two packets of instant oatmeal in the coffee pot. Add a teaspoonful of honey, and a pinch of salt. Put orange flavored herbal tea bag into the filter basket. Pour 8-10 ounces of water into the coffee pot and turn the coffee pot on. Your delicious oatmeal wiill be ready in about 5 minutes.

All you need to poach chicken in a coffee maker is chicken breast, butter and a little bit of water. Let it cook for 15 minutes on each side and serve. Get full recipe here.

You won't be using the coffee pot to make these sandwiches. These sandwiches cook up on the coffee pot burner. Just cook as you would with a pan and a stove, but in a much smaller space.

This one's simple. Just add the eggs to the coffee pot. Run the water through the filter and allow it to sit on the heat for 7-8 minutes.

Rice and other grains can easily be made in a coffee pot. Recipe from geekosystem: Put 1/2 cup of instant rice per person in the coffee maker. Run the appropriate amount of water (check the box for instructions) through the coffee maker, then leave the machine turned on for 5 to 10 minutes until the rice is fully cooked.

In our humble opinion, this is the only thing that should be made in a coffee pot. This is how it's done: Heat cream in the coffee pot and on the burner for 15 minutes. Add broken pieces of a chocolate bar to the pot and allow to melt -- this will take roughly another 10 minutes. Stir together to combine and serve with forks and fruit.

Getting fancy with the coffee maker. Recipe from geekosystem: Place chicken breast in coffee maker. Add enough water to cover about 1/4 of chicken. Sprinkle with lemon pepper seasoning. Turn on maker and cook about 15 min per side. Add milk and butter to remaining liquid, allow to heat for about a minute, and add potato flakes for a quick side of mashed potatoes.

This is an easy one too. Add the corn to the coffee pot. Run the water through the filter and keep on the heat until the corn is tender -- about 8 minutes.

Of course you can make ramen in a coffee pot! Recipe by Kathryn Vercillo via HubPages: Put the noodles into the coffee pot. Add the spice packet to the filter where your coffee is supposed to go and you run the water through the machine just as if you were making a pot of coffee. Let the noodles sit long enough to become soft and you've got Ramen noodle soup that is no different than if you made it on a stovetop or in a microwave.

Cook your vegetables in minutes by putting them in your coffee pot and running water through the filter. The result is a tender but crunchy vegetable that taste similar to quickly steamed veggies.

This might be our favorite coffee pot recipe because it uses it in multiple ways. First, sear the chicken breast on the burner. Next, make the pesto with a coffee grinder. Finally, cook the pasta in the coffee pot like you would ramen. Mix together and serve.

You can cook grits just like you would oatmeal -- minus the flavored tea bag of course. And to make it a little richer, add some butter to the pot too.

Lentils are a quick cooking bean and don't require much time to prepare. For this reason, they're easy to make in a coffee pot. Just add the lentils to the pot with water and cook until tender.

Just like with grilled cheese sandwiches, you can easily make quesadillas on the coffee pot burner. It's even just the right size.

If you can poach chicken, why couldn't you poach fish? Here's how geekosystem outlines the process: Steaks should be approximately 3/4 inches thick to ensure even cooking. Place steak in filter and run 10 cups of water through the coffeemaker. Flip steak, and run another 10 cups of water through machine.