A bakery in West, Texas, has become an essential part of the town's relief efforts in the wake of Wednesday's disastrous fertilizer plant explosion.
The Czech Stop gas station and deli is a much-loved hub for locals as well as travelers passing between Dallas and Austin. Its neighboring Little Czech Bakery has become famous for its kolaches and kitsch in a region with a rich Czech heritage, Jalopnik reports.
According to Mother Jones both business are located off of I-35, just three miles from the ill-fated plant.
Story continues after photo.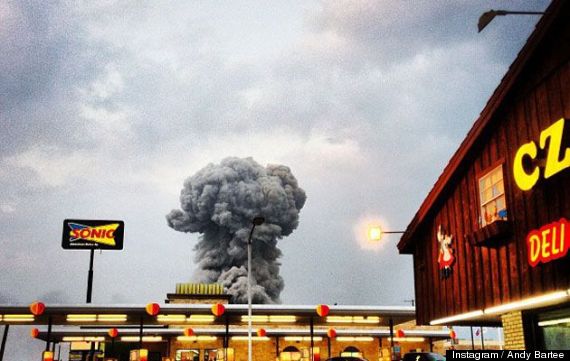 Photo was taken by a customer filling up at the Czech Stop gas station. Credit: Andy Bartee
According to Buzzfeed, when the explosion rocked the town around 8 p.m. Wednesday night, the 24-hour joint kept its doors open and welcomed the injured and shaken to take shelter.
Czech Stop employees rushed to the bakery to help provide food and comfort to the many locals who had been affected, the American-Statesman reported.
"We did whatever we could to make them feel comfortable," Czech Stop president Barbara Schissler told Mother Jones.
Happy to say the Czech Stop is open and serving breakfast to emergency workers. #westexplosion twitter.com/chrissadeghi/s…

— Chris Sadeghi (@chrissadeghi) April 18, 2013
Employees feared the ceiling might buckle after the blast, according to Mother Jones. But when Schlisser determined that there was no extreme damage, she simply turned off the gas pumps in case of another explosion and kept serving baked goods and providing water to the injured or first responders.
"We've never seen anything like this, but we've never closed a single day in 29 years," Schissler told Mother Jones. "You bet we're staying open."
H/T: BuzzFeed
Also on HuffPost:
Loading Slideshow
<a href="http://drdaveores.tumblr.com/">Dr. Dave Ores posted on his tumblr,</a> "I'm open today if I can help anyone. Until 6 pm. Spread the word. Thanks. 189 east 2nd street btw A and B" And that's not all he's doing for his neighbors in the aftermath of Hurricane Sandy. He also assembled 80 sandwiches today and handed them out on the street. Plus, he plans to do the same tomorrow.

A Facebook update from <a href="https://www.facebook.com/thedrinkbrooklyn?ref=stream">The Drink in Manhattan</a> hopes to help their fellow bars in the area.

This photo of a friendly neighbor on the East Coast has gone viral.

The Dutch offers up <a href="https://twitter.com/andrecarmellini/status/264061816408244224">free food</a> to New Yorkers.

Newark Mayor Cory Booker<a href="http://www.huffingtonpost.com/2012/11/01/cory-booker-neighbors-hurricane-sandy_n_2059971.html?1351805482&ncid=edlinkusaolp00000009"> invited Hurricane Sandy victims to his house</a> to charge their electronics, watch movies, and even get a free lunch.

This photo, taken by Instagram user Emily Katter shows people <a href="http://www.google.com/url?sa=t&rct=j&q=&esrc=s&source=web&cd=1&cad=rja&ved=0CB4QFjAA&url=http%3A%2F%2Femilykatter.com%2F&ei=ORKUUN4QpojaBYbqgLgD&usg=AFQjCNGkXYuIhbalKwMy1hPKNORa7-dDqA">writing down their emotions about Hurricane Sandy</a> on Post-It Notes.

This <a href="https://twitter.com/nowthisnews/statuses/264075384109268992">magical young man</a> is helping Hurricane Sandy victims.

Lonestar Taco headed downtown to <a href="https://twitter.com/LonestarTacoNYC/status/264029625397678081">feed the people in the South Street Seaport</a> today.

Anderson Cooper <a href="http://instagram.com/p/RfmxG1kkLl/">posted this photo</a> on Instagram, writing "Sharing power from our sat truck with Hoboken residents needing to charge phones and get online #Sandy"

According to the Sayville Patch, a <a href="http://sayville.patch.com/articles/a-random-act-of-kindness-in-response-to-sandy-s-visit#photo-12002555">Lincoln Avenue, Sayville resident </a>is hoping to make life a bit warmer and satisfying for local neighbors and community members in Long Island.

Banfield Pet Hospital, the world's largest veterinary practice, is offering free office visits and physical exams for more than 140 hospitals in the states affected by Sandy, according to a statement. The waived office visit fee covers a physical examination by the veterinary team; however, excludes any testing, treatments or medications.

According to the <a href="https://www.facebook.com/HurricaneSandyActsOfKindness?ref=stream&filter=3">Hurricane Sandy Acts of Kindness Facebook page</a>, "A resident assists in rescue efforts with his jet ski as emergency personnel rescue residents from flood waters brought on by Hurricane Sandy in Little Ferry, New Jersey October 30, 2012."

According to the Examiner, Ann, from East Northerport, New York is just one of the many <a href="http://www.examiner.com/article/in-recovery-from-hurricane-sandy-kindness-is-catching?cid=rss">good samaritans who used Facebook as one way to offer shelter and hot showers</a> to friends and family in need. She is currently hosting her daughters' friends whose homes are without power. My sister and brother in law are here now showering and catching up on news and hot tea," she reports. "I try to live the golden rule."