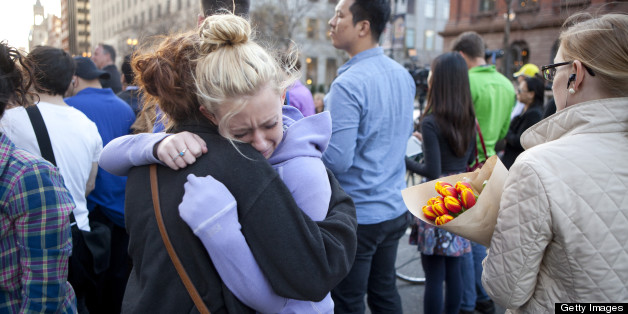 The political world stayed mostly on pause today, as coverage continued of the tragedy in Boston. There was some polling news, but we agree with PPP that for now, at least, it seems far less important.
SEAN TRENDE RECALLS OKLAHOMA CITY - The RealClearPolitics Senior Elections Analyst recounts the 1995 bombing in his hometown: "These catastrophes change communities in unimaginable ways, with deep ripples. I guess all I'm trying to say is, I remember." [@SeanTrende]
TWO NEW QUINNIPIAC POLLS - Ohio: "Sen. Rob Portman's job approval rating among voters slips to 40 - 31 percent, fueled mainly by a dip in Republican support, since he came out in favor of gay marriage...This compares to Sen. Portman's 44 - 24 percent approval rating in a February 28 survey." [Quinnipiac University]
New York City: "Former U.S. Rep. Anthony Weiner gets 15 percent of Democratic primary voters in the New York City mayor's race, but he has a negative favorability, and all voters are evenly divided on whether he should run for mayor." [Quinnipiac University]
SURE. A TORNADO TOO. WHY NOT? The Hotline's polling editor Steve Shepard "A Tornado Watch is in effect for the D.C. area until 10 pm." [@HotlineSteve]
SMARTEST THING WE READ TODAY - @PPPPolls: "I think we're going to wait until Monday to put out the rest of our NC and CO polls- not real important right now." [Twitter]
OUTLIERS - But if you are looking for a diversion, here are links to more news at the intersection of polling, politics and political data:
Jake Porway (who worked with us on Pollster in 2010) will host "The Numbers Game," a new National Geographic television show on big data. [Porway]
Paul Krugman reviews the Reinhart-Rogoff "Excel Depression" controversy. [NYTimes]
Ezra Klein reflects on a lesson from Reinhart-Rogoff: Data is no good without theory. [WaPost]
CORRECTION: An earlier version of this post incorrectly reported the year of the Oklahoma City bombing as 1993.
ALSO ON HUFFPOST:
PHOTO GALLERIES
11 Paranoid Obama Conspiracy Theories