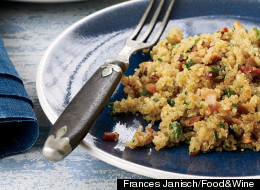 Unlike rice and barley, quinoa is a newer grain in our American cooking experience. Since we still find ourselves looking up how to make a simple pot of rice, we're pretty sure that we're not alone in having to google how to make quinoa every single time we get to the stove to make some.
In an attempt to remedy this simple problem once and for all, here's a basic recipe for quinoa. Hopefully this time we can all finally commit the recipe to memory.
Basic Quinoa Recipe
One cup quinoa
Two cups water or stock
Olive Oil (if you like things to taste a little richer)
1/4 teaspoon of salt (only if you aren't using store-bought stock!)
First, rinse the quinoa. This is the most important thing you can do if you want to make quinoa that is at all edible. Place the quinoa in a fine-mesh strainer, and rinse thoroughly with cool water. Rub the quinoa with your hand while rinsing. Rinse for at least two minutes under the running water. If you don't rinse your quinoa thoroughly, it will end up tasting bitter.
Then, dry toast the quinoa in a saucepan with a drizzle of olive oil and cook for one minute until the water has evaporated from the rinsed quinoa. Next, add the two cups liquid and salt. Bring to a boil. Lower heat and simmer for 15 minutes.
Turn off the heat, remove from the burner and allow to stand covered for five minutes. Fluff and serve!
Want to read more from HuffPost Taste? Follow us on Twitter, Facebook, Pinterest and Tumblr.
Now that you know how to make quinoa, you can start cooking with it.
Get the Gluten-Free Pizza recipe by A Gluten-Free Day You don't have to feel bad about eating pizza when you eat it with a quinoa crust.

Get the Whole Wheat Banana Quinoa Pancakes recipe by Ambitious Kitchen Never has quinoa looked so delicious. These pancakes sneak in not only this protein-packed grain but whole wheat too.

Get the Quinoa Egg Veggie Bake recipe by Edible Perspective You get a double dose of protein with this breakfast egg bake recipe thanks to the sneaky addition of quinoa.

Get the Quinoa Crunch recipe by Make It Naked Quinoa, maple syrup, cinnamon and coconut oil are all you need to make this sweet and healthy dessert topping.

Get the Enchilada Chicken & Quinoa Stuffed Bell Peppers recipe by Ambitious Kitchen Quinoa is mixed in with chicken, onion and spices to stuff and be cooked in sweet bell peppers.

Get the Quinoa Tortillas recipe by The Gracious Pantry Don't turn to corn tortillas next time taco night rolls around. Give these quinoa tortillas a try and get more protein.

Get the Quinoa Porridge with Blueberries and Pecans recipe by Closet Cooking Forget processed cereals or even rolled oats and enjoy a super-healthy breakfast with quinoa, blueberries and pecans.

Get the Asparagus Artichoke Tart recipe with Quinoa Crust recipe by Weekly Greens The genius of this tart recipe is that the quinoa is the crust. And it's made with pesto and parmesan too.

Get the Yuzu Poppy Seed Quinoa Pancakes recipe by Tartine and Apron Strings Not only are these pancakes gluten-free, but they're packed with quinoa too.

Get the Basil Parmesan Quinoa Cakes recipe by Cate's World Kitchen While the quinoa in this quinoa cake isn't really hidden, it is delicious. When cooked to a crunchy golden brown, and mixed with cheese and basil, quinoa is hard to resist.

Get the Carrot Walnut Cake with Millet recipe No one will ever know that there's quinoa and millet in this rich and delectable cake recipe.

Get the Banana Quinoa Muffins recipe With these banana muffins, you can feel good about eating a healthy breakfast in the morning -- one that tastes good too.

Get the Quinoa Paella with Spring Vegetables recipe Why load up on yellow rich when it has little nutritional value? Swap out the rice for quinoa, and still enjoy the rich flavors of paella.

Get the Quinoa Crunch recipe by Daily Bites Quinoa crunch is the perfect way to disguise this healthy seed. Not only is it great for snacking on its own, but it's delicious used as a topping for baked fruit too.

Get the Quinoa and Fruit Power Bars recipe You no longer need to turn to sugar-laden breakfast bars, make your own and load them up with quinoa.